Nanhua volcano erupts for second time in four and a half months 相隔近四個半月 南化泥火山再度噴發了
Tainan's Nanhua mud volcano erupted on April 9 for the first time this year. The eruption, which came 40 days later than the average time, has drawn much attention.
Lai Ming-chang, a history researcher who has been closely monitoring the Nanhua mud volcano for over a decade, says that the eruption occurred at 5am in the morning, when the geyser water became agitated. He considers it a normal release of energy but notes that it has been nearly four and a half months since the last eruption.
According to Lai, on average the mud volcano erupts every three months, with the last eruption occurring on Oct. 29 last year. Although the eruption last week occurred later than usual, its previous eruption lasted three days and released relatively more energy. In addition to that, the longest time the mud volcano has not had an eruption is 20 months. It was therefore not surprising that the eruption took place four and a half months after its previous one, Lai says.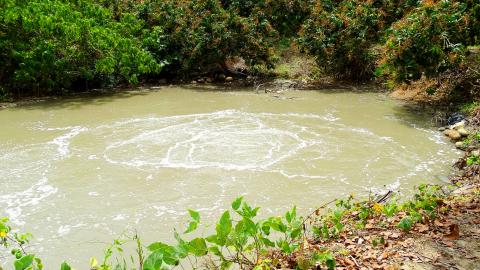 Tainan's Nanhua mud geyser bubbles on April 9. 台南的南化泥火山池水四月九日翻動冒泡。
Photo: Wu Chun-feng, Liberty Times
照片:自由時報記者吳俊鋒
Lai also notes that the Nanhua mud volcano is located in a private grove in Tainan's Yushan Borough. It was originally an oil well drilled during the Japanese colonial era but was later abandoned.
(Liberty Times, translated by Tu Yu-an)
台南市南化泥火山四月九日於今年首次噴發,由於比平均週期晚了約四十天,格外引人矚目。
在當地觀察長期記錄火山活動逾十年的文史工作者賴銘章表示,泥火山是今晨五點多噴發,過程中池水不斷攪動。他認為這是正常的能量釋放,比較特別的是,距離上次噴發,已經將近四個半月了。
賴銘章說,泥火山平均噴發週期約三個月,最近的一次是去年十月二十九日,這次噴發時間晚了些,但過去間隔最久曾長達二十個月,且上次噴發的持續了三天,能量釋放較多,因此這次隔了四個半月,還在可預期的範圍內。
賴銘章提到,南化泥火山位於台南玉山里一處的私人果園裡,是日治時期開鑿的油井,現已荒棄。
(自由時報記者吳俊鋒)
Publication Notes
TODAY'S WORDS
今日單字
1. volcano n.
火山 (huo3 shan1)
2. agitated adj.
攪動的 (jiao3 dong4 de5)
3. grove n.
果園 (guo3 yuan2)
4. oil well n. phr.
油井 (you2 jing3)
Comments will be moderated. Keep comments relevant to the article. Remarks containing abusive and obscene language, personal attacks of any kind or promotion will be removed and the user banned. Final decision will be at the discretion of the Taipei Times.