Rifle 來福槍
I don't know. I guess it's a measure of how safe Taiwanese society is, but when I see a guy emerging from a store opposite the restaurant I'm sitting in carrying a big rifle, it sets me on edge.
Since I was in Taiwan, after the initial moment of unease, I took out my camera and shot him, instead. Had I been in the UK, I would have been scared he might have walked the short distance to the restaurant and put me and my partner in danger. If I had been met with this scene in the UK, I wouldn't have thought twice: I would have been out of the back entrance of the restaurant like a shot.
I've never held an actual gun before. I am no expert, but I concede it was probably just an air rifle. After a second's reflection, I was quite satisfied that we were not actually in any danger. But come on. Lifting the barrel, aiming it down the street and looking down the sight like that, finger on the trigger, as if you're about to shoot? There's something, it seems to me, a little unwise about that.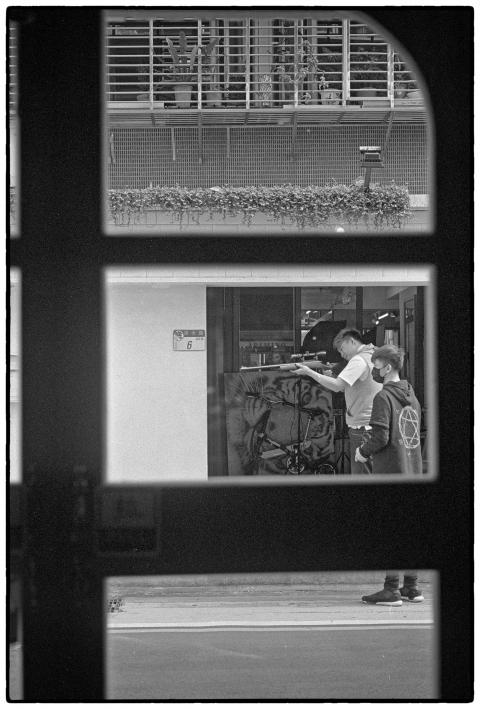 Two men, one holding a rifle, emerge from a shop in Taipei on Mar. 24. 兩名男子三月二十四日從台北市一間店面中走出,其中一人手持來福槍。
Photo: Paul Cooper, Taipei Times
照片:台北時報記者古德謙攝
And yes, he did pull the trigger.
(Paul Cooper, Taipei Times)
不知該怎麼說,但我猜從這應可看出台灣的社會是多麼安全。當我看到有一個人從我正坐著的餐廳對面的店裡出現,手持一支很大的來福槍,就讓我很緊張。
但因為我是在台灣,所以在一開始的緊張過後,我就拿出相機拍下了他。如果我是在英國,我就會很怕他向不遠的餐廳這兒走來,並對我和伴侶造成危險。如果我是在英國遇到這景象,我就會毫不考慮衝向餐廳後,奪門而出。
我從沒拿過真槍。我不是專家,但我承認這可能不過是一把空氣槍。想了一下,知道我們其實並未處於危險中,我感到釋懷。但是拜託,像這樣舉起槍管,朝街上瞄準,扣住扳機,一副你馬上要射擊的樣子? 對我來說,這實在是有點不智。
然後沒錯,他的確扣下了扳機。
(台北時報編譯林俐凱譯)
Comments will be moderated. Keep comments relevant to the article. Remarks containing abusive and obscene language, personal attacks of any kind or promotion will be removed and the user banned. Final decision will be at the discretion of the Taipei Times.