Thousands affected by flash flooding in Peru 秘魯豪雨成災 數千民眾受困
Intense rains in the Peruvian capital of Lima have brought a natural disaster to the area, causing flash floods on March 17 and affecting several thousand people. The floodwaters have turned streets into rivers, forcing emergency rescue personnel to look for ways to evacuate those in affected areas.
According to the central disaster response center, natural disasters have claimed at least 65 lives so far this year in Peru, the latest being three people losing their lives in floods in the northern region of La Libertad, and another two people unaccounted for.
Following continuous heavy rains for the past few weeks, some residents of the suburbs of Lima, a city with a population of 10 million, woke on the morning of March 17 to find their bedrooms flooded.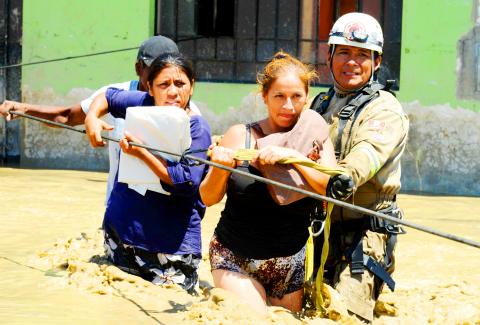 Rescuers help local residents of the town of Huarmey, 300 kms from Lima, cross the road on Mar. 19 following flash flooding brought by heavy rains. 豪雨三月十九日在距離秘魯首都利馬三百公里的瓦爾梅鎮引發暴洪,救難人員協助當地災民涉水過馬路。
Photo: AFP
照片:法新社
In addition, sections of the main roads linking Lima with central Peru have been cut off by mudslides.
The flooding from heavy rains have been caused by El Nino, and this year Peru has been hit particularly badly.
(CNA, translated by Paul Cooper)
秘魯首都利馬三月十七日豪雨成災,引發暴洪,數千民眾受困,街道氾濫成河,迫使救難人員設法撤離災民。
中央災害應變中心表示,今年以來天災在秘魯至少奪走六十五條人命,包括最近一次的北部拉里柏塔地區水災,造成三人喪生,另有兩人下落不明。
在有一千萬人口的利馬,數週以來豪雨不斷,部分郊區居民十七日一早醒來便發現臥室淹水。
此外,連接利馬與秘魯中部的主要公路部分路段遭到泥流阻斷。
聖嬰現象會引發豪雨,進而導致水災,而秘魯今年受創尤其嚴重。
(中央社)
Did you know?
你知道嗎?
El Nino is an oscillation in the ocean and atmosphere system in the tropical Pacific, causing unusually warm ocean temperatures in the Equatorial Pacific. An El Nino event has major implications for weather around the world, among these being increased rainfall in Peru. El Nino does not happen every year, but can be predicted by taking measurements of changes in the ocean temperature, currents and winds in the tropical Pacific. The term El Nino is Spanish for "little boy" and is short for "El Nino de Navidad," or "little child of Christmas," a reference to the newborn Jesus Christ.
True or False 是非題
1. Peru has had severe flooding for the past few weeks.
2. Several thousand people throughout the country have been affected by the floods.
3. At least 65 people have lost their lives in the country as a direct result of natural disasters.
4. The residents were fortunate in that it was only their bedrooms that were affected by the flooding.
1. F; 2. F; 3. T; 4. F
Publication Notes
TODAY'S WORDS
今日單字
1. intense rain; heavy rain n. phr.
豪雨
(hao2 yu3)
2. flash flood n. phr.
暴洪
(bao4 hong2)
3. evacuate v.
撤離
(che4 li2)
4. claim a life v. phr.
奪走人命
(duo2 zou3 ren2 ming4)
5. unaccounted for phr.
下落不明
(xia4 luo4 bu4 ming2)
6. flooded adj.
淹水
(yan1 shui3)
Comments will be moderated. Keep comments relevant to the article. Remarks containing abusive and obscene language, personal attacks of any kind or promotion will be removed and the user banned. Final decision will be at the discretion of the Taipei Times.