Climate change impact on animals 'under-appreciated': study 氣候變遷對動物的影響恐遭低估
While most studies seek to predict global warming's future impact on animal survival, new research has found that, for "large numbers" of threatened species, the damage is already being done. Data suggests that "the impact of climate change on mammals and birds in the recent past is currently greatly under-appreciated," according to a study in the journal Nature Climate Change last week.
Researchers have amassed data from 136 previous studies, looking at 120 mammal and 569 bird species. They compared documented changes in climate with growth or decline in population sizes, geographic ranges, body mass, and reproductive and survival rates. The team then extrapolated the data to all land mammals and birds listed as threatened by the International Union for Conservation of Nature (IUCN).
Of all animals identified by the study as likely to have "responded negatively" to climate change, only 7 percent of mammals and 4 percent of birds were recognized by the IUCN as threatened by "climate change and severe weather."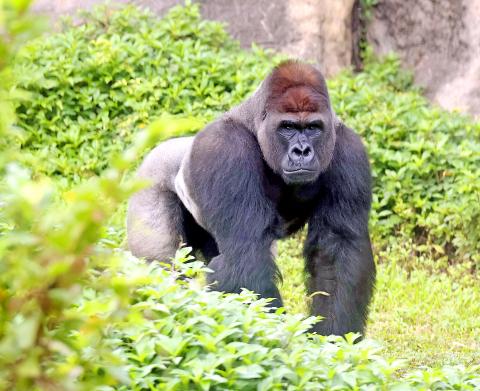 A male western lowland gorilla is pictured at Taipei Zoo on Jan. 7. The western lowland gorillas are listed as critically endangered by the International Union for Conservation of Nature (IUCN). 一隻雄性西部低地大猩猩,一月七日攝於台北市立動物園。國際自然保育聯盟現已將西部低地大猩猩列為「極危」物種。
Photo: Huang Yao-cheng, Liberty Times
照片:自由時報記者黃耀徵
Endangered primates and elephants are among the groups squeezed hardest by global warming, partly because they reproduce slowly and thus take longer to adapt to rapid environmental changes, they reported. Many of the hardest-hit bird species are aquatic birds, as aquatic environments are considered among the most vulnerable to temperature increase, the researchers added.
Climate change can affect animals by limiting food and water, spreading disease and shrinking habitats.
(AFP)
多數關於全球暖化的研究著眼於預測未來異常氣候對動物造成的影響,但一篇於上週發表於《自然氣候變化》期刊的新研究發現,全球暖化已然對許多動物的生存造成威脅與傷害。該研究顯示,「過去幾年來哺乳動物和鳥類在氣候變遷下所受的影響被大幅低估。」
研究人員蒐羅了一百三十六篇針對一百二十種哺乳類和五百六十九種鳥類的研究,並利用過去的氣候變化資料對照比較這些動物的數量、地理分布、體積、繁殖率和生存率,再將獲得的數據外推至所有被國際自然保育聯盟列為受到威脅的陸上哺乳動物和鳥類。
在該研究認為可能受到氣候變遷「負面影響」的動物名單中,只有百分之七的哺乳動物和百分之四的鳥類被國際自然保育聯盟列為「受到氣候變遷和極端天氣的威脅」。
研究指出,瀕危的靈長類和大象為全球暖化下最大的受害者,因為牠們繁衍後代的速度較慢,所以適應環境變化也較慢;此外,在全球暖化下受到最大衝擊的鳥類多半是水鳥,因為水中受到溫度變化的影響最大。
氣候變遷影響動物生存的方式包括減少食物和水、造成疾病擴散、縮小棲地等。
(台北時報編譯涂宇安譯)
Publication Notes
TODAY'S WORDS
今日單字
1. geographic range n. phr.
地理分布
(di4 li3 fen1 bu4)
2. extrapolate v.
外推
(wai4 tui1)
3. primate n.
靈長類
(ling2 zhang2 lei4)
4. habitat n.
棲地
(qi1 di4)
Comments will be moderated. Keep comments relevant to the article. Remarks containing abusive and obscene language, personal attacks of any kind or promotion will be removed and the user banned. Final decision will be at the discretion of the Taipei Times.