Why do so few elephants get cancer? 大象為什麼很少得癌症?
In 1977, a University of Oxford statistician named Richard Peto pointed out a simple yet puzzling biological fact: We humans should have a lot more cancer than mice, but we don't.
Dr. Peto's argument was beguilingly simple. Every time a cell divides, there's a small chance it will gain a mutation that speeds its growth. Cells that accumulate several of these mutations may become cancerous. The bigger an animal is, the more cells it has, and the longer an animal lives, the more times its cells divide. We humans undergo about 10,000 times as many cell divisions as mice — and thus should be far more likely to get cancer.
Yet humans and mice have roughly the same lifetime risk of cancer, a circumstance that has come to be known as Peto's paradox.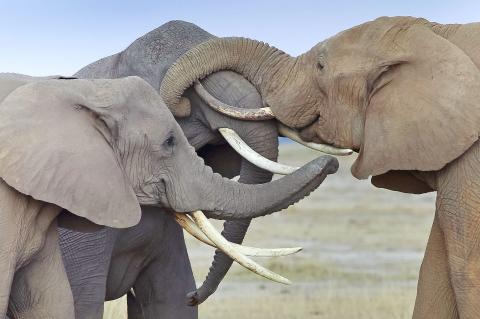 Elephants play in the Amboseli National Park, southern Kenya, Oct. 9 2013. 三頭大象在肯亞的安波塞利國家公園內玩耍,攝於二○一三年十月九日。
Photo: EPA
照片:歐新社
A number of scientists have speculated that large, long-lived animals must evolve extra cancer-fighting weapons. And if that's true, they reason, then the biggest, longest-lived animals should have an especially big arsenal. Otherwise, these species would become extinct.
Dr. Joshua Schiffman, a pediatric oncologist at the Huntsman Cancer Institute at the University of Utah and his colleagues have found that elephants have a remarkably low rate of cancer. They reviewed zoo records on the deaths of 644 elephants and found that less than 5 percent died of cancer. By contrast, 11 percent to 25 percent of humans die of cancer — despite the fact that elephants can weigh a hundred times as much as we do.
Dr. Schiffman is now investigating how to translate the new findings on elephants into cancer treatments for people. But he said it would be useful to look at other big or long-lived animals as well. Naked mole rats, for example, live up to 30 years without ever getting cancer. Dr. Schiffman speculates that parrots, tortoises and whales may all have special longevity tactics of their own.
"The war on cancer was going on long before there were humans," he said. "So let's look at nature's strategies."
This article is an edited version of a piece that originally appeared in the New York Times
(Carl Zimmer, New York Times)
一九七七年,牛津大學的統計學家理查德·皮托指出了一個簡單卻令人費解的生物學現象:照理說,我們人類應該遠比小鼠更容易患癌症才對,可事實卻並非如此。
皮托博士的理論依據乍看似乎很簡單。細胞每次分裂時都有極小的機率會產生可以加速其生長的突變。如果此類突變累積到一定程度,細胞就可能癌變。動物的體型越大,身上的細胞就越多;動物的壽命越長,其細胞分裂次數也就越多。我們人類一生中要經歷的細胞分裂次數約為小鼠的一萬倍,因此患癌症的風險也應比小鼠高得多。
然而,事實上,人類與小鼠的癌症終生風險卻大致相同,這一現象被稱為「皮托悖論」。
許多科學家推測,體型較大、壽命較長的動物必定是演化出了其他的武器來抗擊癌症。如果事實果真如此,那麼,體型最大、壽命最長的動物就應該擁有特別強大的抗癌法寶,要不然這些物種早就該滅絕了。
猶他大學亨斯邁癌症研究所的小兒腫瘤學家喬舒亞‧希夫曼和他的同事們在研究中發現,大象的罹癌率非常低。他們審查了六百四十四頭動物園大象的死亡報告,發現其癌症死亡率還不到百分之五。相比之下,儘管人類的體重只有大象的百分之一,卻有百分之十一至二十五因癌症喪命。
希夫曼目前正在研究如何將從大象身上得到的新發現轉化為可造福人類的癌症新療法。但他也表示,考察其他大型或長壽的動物應該也會很有用。舉例來說,裸鼴鼠可以活到三十歲而從不患癌症。希夫曼博士推測,鸚鵡、陸龜和鯨魚很可能都有各自獨特的長壽策略。
「對抗癌症的戰爭早在人類誕生之前就久已開打,」希夫曼博士說。「那麼,就讓我們來看看自然界動物的抗癌戰術吧。」
本文為編輯後的版本,原文已於紐約時報刊登
(紐約時報)
Comments will be moderated. Keep comments relevant to the article. Remarks containing abusive and obscene language, personal attacks of any kind or promotion will be removed and the user banned. Final decision will be at the discretion of the Taipei Times.