"SpeXial's" popularity surges with new drama and book 「SpeXial」拍新戲、寫真書 人氣紅不讓
Taiwanese boy group "SpeXial" is so popular at the moment that some members — including Wayne, Sam, Evan and Ian — have been invited to star in this year's KO-3AN-GUO, a Chinese adaptation of a hit TV drama with a budget of NT$300 million. Their new look in the drama, revealed early this month, as students of an Eastern Han Dynasty academy immediately got fans talking.
On Feb. 9, the group released its second photo book, "SpeXial Okinawa." The members were overwhelmed by the beautiful Okinawan beaches. Their book signings are already taking place.
However, on the eve of the release of the book, Simon, one of the more popular members, announced on Facebook his intention to pull out of the group. He is reportedly to sue his management company over payment irregularities, seeking to extract himself from his contract.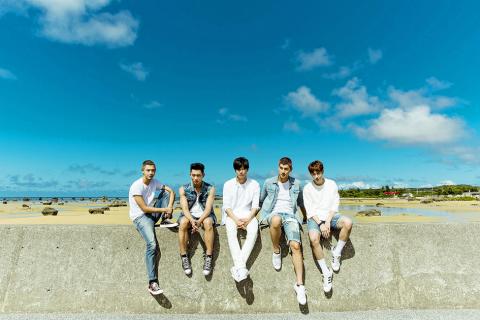 Members of Taiwanese boy group "SpeXial" take photos for their second photo book, titled "SpeXial Okinawa," in Japan's Okinawa Islands late last year. 台灣男子團體「SpeXial」的成員,去年底在日本沖繩群島,拍攝第二本寫真書「SpeXial Okinawa沖繩寫真遊記」。
Photo courtesy of Kadokawa Taiwan Corporation
照片︰台灣角川提供
(Liberty Times, translated by Eddy Chang)
台灣男子團體「SpeXial」人氣紅不讓,今年中國耗資三億翻拍熱門戲劇「終極三國」,邀請包括該團的偉晉、子閎、Evan、易恩等人主演。他們在劇中東漢書院的學生造型本月首度曝光,馬上吸引大批粉絲注意。
該團並於二月九日,推出第二本寫真書「SpeXial Okinawa沖繩寫真遊記」,一行人被當地的海灘美景所震懾,目前已展開簽書會活動。
然而在寫真書出版前夕,高人氣成員晨翔突然在臉書發文宣布退團,還傳出疑似酬勞帳目不清,將按鈴提告經紀公司解除合約。
(自由時報)
Publication Notes
TODAY'S WORDS
今日單字
1. adaptation n.
翻拍
(fan1 pai1)
2. photo book n. phr.
寫真書
(xie3 zhen1 shu1)
3. book signing n. phr.
簽書會
(qian1 shu1 hui4)
4. pull out v. phr
退出
(tui4 chu1)
5. contract n.
合約
(he2 yue1)
Comments will be moderated. Keep comments relevant to the article. Remarks containing abusive and obscene language, personal attacks of any kind or promotion will be removed and the user banned. Final decision will be at the discretion of the Taipei Times.