Alfonso Wong, creator of "Old Master Q," dies in US 「老夫子」原創人 漫畫家王家禧在美過世
Cartoonist Alfonso Wong, creator of the popular comic strip "Old Master Q," died at the age of 93 in the US on Jan. 1, OMQ ZMedia Ltd, the company that promotes Wong's comics, announced in a statement on its Web site recently.
Wong is best known for his humorous comic strip, which many in the Chinese-speaking world grew up reading. He began drawing his iconic "Old Master Q" in 1963. The comic strip features the protagonist Old Master Q — a funny and engaging character who dresses in traditional Chinese clothing — and his best friends Big Potato and Mr Chin.
The comic strip portrays the everyday lives of the main characters, and has been made into films. The first Old Master Q-themed restaurant opened in Hong Kong last year. Wong's eldest son Joseph Wong took over the comic strip in 1995 to carry on his father's work.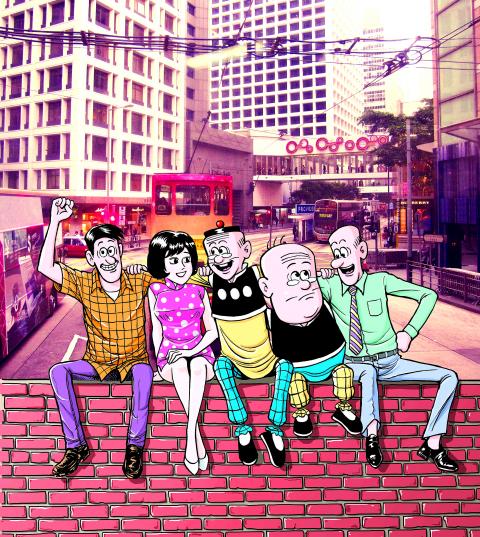 Mr Chin, Miss Chan, Old Master Q, Big Potato and Mr Chiu, left to right, main characters of the popular comic strip "Old Master Q," appear in this comic together. 熱門連環漫畫「老夫子」的主角秦先生、陳小姐、老夫子、大蕃薯和老趙(左至右),一起出現在這幅漫畫中。
Photo courtesy of OMQ ZMedia Ltd
照片︰老夫子哈媒體公司提供
(CNA)
熱門連環漫畫「老夫子」原創人、漫畫家王家禧已經在元旦於美國離開人世,享壽九十三歲。負責銷售該漫畫的老夫子哈媒體公司,近日在它的網站上公布此一消息。
王家禧以幽默的連環漫畫聞名,華人世界許多讀者都看著他的作品長大。他自一九六三年開始繪製最具代表性的「老夫子」,這部漫畫的主角是機智、獨特、穿著傳統中式服裝的老夫子,與他的好友大蕃薯和秦先生。
該漫畫呈現出主角的日常生活,也被翻拍成好幾部電影,去年香港還開了第一家老夫子主題餐廳。王家禧的大兒子王澤於一九九五年繼承父業,接手漫畫創作。(張聖恩譯自中央社)
Publication Notes
TODAY'S WORDS
今日單字
1. cartoonist n.
漫畫家
(man4 hua4 jia1)
2. comic strip ph.
連環漫畫
(lien2 huan2 man4 hua4)
3. humorous adj.
幽默的
(you1 mo4 de5)
4. iconic adj.
具代表性的
(ju4 dai4 biao3 xing4 de5)
5. character n.
角色;人物
(jiao3 se4; ren2 wu4)
Comments will be moderated. Keep comments relevant to the article. Remarks containing abusive and obscene language, personal attacks of any kind or promotion will be removed and the user banned. Final decision will be at the discretion of the Taipei Times.