What he said… Chang Sung-shan 百家言:張松山
When we paint in the traditional xieyi style, the most important thing is the moyun, or rhythm of the ink. Traditional painting does not try to attract the eye with bright colors, it relies on variations in the use of brush and ink; it revolves mostly on the purity of technique and the rhythm of the ink. It doesn't rely on gauche colors to draw attention to itself. At the same time, it is about the use of negative space, leaving parts of the composition unpainted, the space itself representing ideas.
Without this quality, when people paint an object, it looks rigid, lifeless, unsettling. A work of art should impart a sense of tranquility. If it has that, when you get off work you can sit before it and appreciate it, and it gives you a sense of pleasure.
There were some pretty big changes in the Qing dynasty, coming in from the Kangxi reign when the Italian Jesuit priest Giuseppe Castiglione introduced new ideas. Castiglione took Western techniques and used them on traditional Chinese ink paintings, that is, he developed a synthesis of Chinese and Western techniques, and this synthesis of the two disciplines is still very common, even in China. In traditional Chinese painting, space is used to represent something, but in Western art space is eschewed. The background is always painted in, every bit of the painting is filled in. Traditional painting is in the position of elements and the use of space, you don't need to paint all over. You give people space in which to use their own imagination.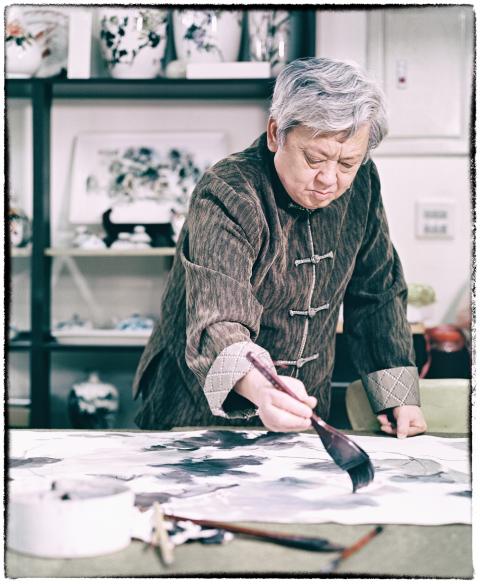 Painter Chang Sung-shan in his studio in New Taipei City's Yingge District on March 11, 2016. 畫家張松山二○一六年三月十一日在新北市鶯歌區的工作室。
Photo: Paul Cooper, Taipei Times
照片:台北時報記者古德謙攝
(Translated by Paul Cooper)
我們畫寫意畫注重的是墨韻,傳統畫並不是以色彩鮮豔來吸引人,而是用筆墨變化,主要靠技法的純熟度及表現墨韻,不是以譁眾取寵的方式來吸引注意;同時也注重留白、留空,空間代表一切。
有些人畫的東西沒有墨韻看起來就死板,不舒服。藝術品就是要看得舒服,如果舒服的話下班坐在前面欣賞一下,就能感覺賞心悅目。
水墨畫出現較大的變化是在清朝康熙王朝,朗世寧把西洋畫的方式用在中國水墨畫上,變成中西合璧,現在外面流行的大多是中西合璧,連同中國都一樣。在中國傳統繪畫中留白有其代表意義,但西洋畫的觀念是不留白,會把背景畫上去,整張畫都是畫得滿滿的。傳統水墨畫主要不同就是在佈局跟留白,不需要畫得很滿,讓人有無限想像空間。
(台北時報記者古德謙整理)
Comments will be moderated. Keep comments relevant to the article. Remarks containing abusive and obscene language, personal attacks of any kind or promotion will be removed and the user banned. Final decision will be at the discretion of the Taipei Times.