USING IDIOMS 活用成語
Chinese Practice
春回大地
(chun1 hui2 da4 di4)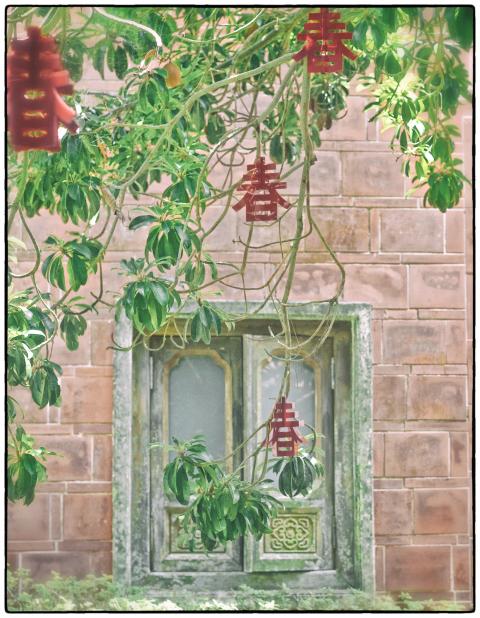 A window in the Nanyuan resort in Hsinchu County on Aug 17. 新竹縣南園內的窗戶,攝於八月十七日。
Photo: Paul Cooper, Taipei Times
照片:台北時報記者古德謙攝
Spring has returned
春回大地此成語源自於周紫芝所寫的宋詞:
樹頭雪過梅猶在
地上春回柳未知
梅於冬春季開花,因具有耐寒特性,傳統上與松、竹合稱為「歲寒三友」。詞中,「雪過梅猶在」表示嚴寒已過,梅花仍綻放。接著「地上春回」形容溫暖的天氣又回到人間,萬物逐漸復甦,不過尚未擴及柳樹。
這句成語用來形容冬天終於結束,從梅花仍開著而樹頭的雪已開始融化,人們可以看到春天來臨的徵兆。
英文中也有一個有趣的諺語"one swallow does not make a summer",和這首宋詞有異曲同工之妙。在英文諺語中以燕子代替融雪,象徵新季節的到來。這句英文諺語以隱喻的方式提出警惕,字面意思為「看到一隻燕子不代表夏天就到了」:雖然出現改變的徵兆,並不代表情況已經改變。
(台北時報記者古德謙整理)
每逢三月,春回大地,庭院便開滿了花。
(Every March, spring returns, and the garden is bursting with flowers.)
英文練習
One swallow does not make a summer
The Chinese idiom 春回大地 comes from a poem written by the Song dynasty poet Zhou Zizhi:
樹頭雪過梅猶在
地上春回柳未知
The snow is gone from treetops
The plum blossom remains.
As spring returns to the ground below,
Still unaware, the willow.
Plum blossom generally opens in the late winter/early spring, and is traditionally regarded in Chinese culture as being one of the "three friends of winter," along with the pine tree and bamboo.
This idiom is used to mean that the winter is finally over, and that we are seeing the first signs of the arrival of spring, as the plum blossom is revealed once again through the melting snow at the tops of the trees.
The English phrase, "one swallow does not make a summer" is similar in that it uses a sign — the swallow, instead of melting snow — to indicate the arrival of a new season. It carries a cautionary meaning, however: the first indications of change do not mean the change is complete.
It is the modern version of "It is not one swalowe that bryngeth in somer. It is not one good qualitie that maketh a man good," from a collection of Greek and Latin proverbs compiled by the Dutch humanist Erasmus.
(Paul Cooper, Taipei Times)
Well, yes, he has been much more polite today. But one swallow does not make a summer.
(他今天確實比較有禮貌,但這不代表他已經改頭換面了。)
Comments will be moderated. Keep comments relevant to the article. Remarks containing abusive and obscene language, personal attacks of any kind or promotion will be removed and the user banned. Final decision will be at the discretion of the Taipei Times.