Hip op, hip op, hooray! 九十八歲嬤骨折忍三週 手術三天後出院
In early August, an elderly woman surnamed Hung, 98, had a fall in the corridor of her Taichung home, and broke her left femur. In the first instance, she when to a nearby clinic to have it looked at, but the doctor there advised against surgery, due to her advanced years. The woman was quite happy not to have an operation, too, as she was worried about the high risk involved, and she bore the pain for close to three weeks. The family tried to persuade her to do something about it, and late August she finally agreed to go to a clinic. The doctor there confirmed that she had broken her hip bone, and would need surgery to set the bone.
Hung was able to get out of bed the day after surgery, and was discharged after three days. She is now receiving treatment for osteoporosis and rehabilitation therapies, and is doing very well.
When senior citizens fall and sustain an injury, if they are too scared to seek medical attention for the problem, they might end up staying in bed for a long period of time. This will not only be detrimental to their physical health, it could also influence their mental health, too, and may even cause them to develop a urinary infection, bedsores or pneumonia, which can make it very difficult for the patient themselves or their family. Nowadays, hip operations are very advanced, involving relatively small incisions and little post-op discomfort. So long as they discuss things with the physician prior to surgery, there is really no need for concern.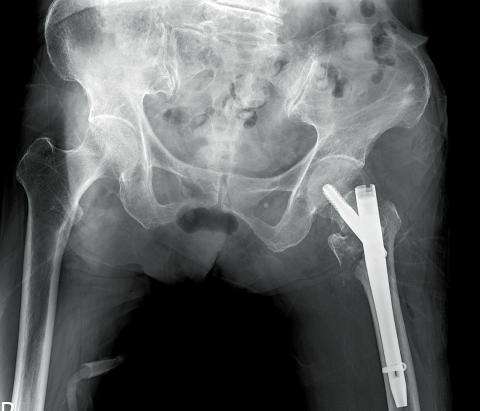 X-ray of a 98-year-old patient from Taichung who successfully underwent a hip operation. 照片:自由時報記者陳建志
Photo: Chen Chien-chih, 照片:自由時報記者陳建志Liberty Times

(Liberty Times, translated by Paul Cooper)
九十八歲的洪奶奶八月初在台中住家走廊不慎摔倒,造成左大腿骨折,一開始先前往住家附近診所檢查,醫師因她年紀大不建議開刀,老奶奶也因擔心手術風險高不願開刀,就這樣痛了快三週。家人不斷勸說,終於在八月底同意看診。醫生確認是髖骨骨折,必須接受固定髖骨骨折手術。
洪奶奶在手術後隔天就下床,三天後就出院,並接受骨質疏鬆治療、復健,目前恢復良好。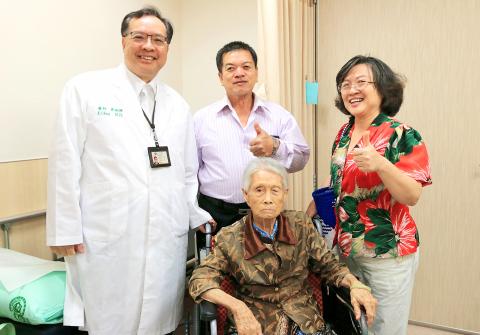 Hung, front row, center, who broke her femur, is accompanied by Dr. Huang Kuei-chou, left, on Sept 13 at Taichung's Asia University Hospital. 洪奶奶(前排中)與手術醫師黃揆洲(左)九月十三日於台中亞洲大學附屬醫院合影。
Photo: Chen Chien-chih, Liberty Times
照片:自由時報記者陳建志
高齡長輩跌倒受傷,若因害怕沒有就醫解決,可能造成長期臥病在床,不僅喪失復健能力,也影響心理健康,甚至引發泌尿道感染、褥瘡以及肺炎,讓患者自己和家人都痛苦。目前髖部骨折手術已經很成熟,術後傷口小、疼痛感輕,只要術前和醫師充分溝通,其實不用太擔心。(自由時報記者陳建志)
Comments will be moderated. Keep comments relevant to the article. Remarks containing abusive and obscene language, personal attacks of any kind or promotion will be removed and the user banned. Final decision will be at the discretion of the Taipei Times.