Taiwan's first mountain-banana-themed tourist factory 首創山蕉為主題 觀光工廠開幕
The first mountain-banana-themed tourist factory in Taiwan, the Jiji Banana Factory, opened on October 1. At its opening ceremony, County Commissioner Lin Ming-chen and others cut the ribbon on the factory, which boasts over 50 varieties of bananas from around the world.
Covering approximately two hectares of land, the factory was originally used to clean and sort bananas. The place is now transformed into a museum with educational exhibits on bananas and outdoor garden trails flanked with banana trees. Some of the garden's rarities include Musa ornata Roxb. – a type of ornamental banana with purple flowers – and Musa "Praying Hands" – known as the "Clam Banana" in Chinese as they grow in bunches resembling clam shells.
Founder of the Jiji Banana Factory Huang Jung-hsuan says the mountain bananas from Jiji were once used as tribute to the Japanese emperor. He hopes the factory can help keep Jiji's delicious bananas and the local industries and culture alive and thriving.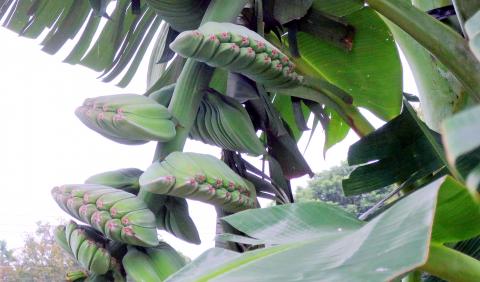 A "clam banana" tree is pictured in the Jiji Banana Factory in Nantou County on October 1. 南投縣集集鎮「集元果觀光工廠」中的「蛤仔蕉」,攝於十月一日
Photo: Hsieh Chieh-yu, Liberty Times
照片:自由時報記者謝介裕
Lin points out that the Jiji Banana Factory is the first tourist factory in Taiwan with the theme of mountain bananas. The factory has developed banana-flavored wafer rolls and other products made with mountain bananas, Lin says, adding that he hopes the factory will promote local industry and tourism.
(Liberty Times, translated by Tu Yu-an)
全台首座以山蕉為主題的南投縣集集鎮「集元果觀光工廠」十月一日在縣長林明溱等人剪綵下開幕,廠區有超過五十種來自世界各地的香蕉樹。
占地約二公頃的「集元果觀光工廠」,前身是香蕉洗選場,內有簡介香蕉的博物館,室外則有景觀步道,兩旁廣植香蕉樹,其中不乏罕見品種,如花朵呈紫色的「紫夢幻蕉」、以及因果串形似蛤蜊而得名的「蛤仔蕉」。
集元果觀光工廠創辦人黃榮炫說,集集山蕉過去曾經是日本天皇的御用貢品,期待觀光工廠能將集集山蕉的美味與地方產業文化傳承下去。
林明溱指出,集元果是全台第一個以山蕉為主題的觀光工廠,並研發蛋捲等山蕉加工品,將可促進地方產業發展,並帶動集集觀光旅遊人潮。
(自由時報記者謝介裕)
Comments will be moderated. Keep comments relevant to the article. Remarks containing abusive and obscene language, personal attacks of any kind or promotion will be removed and the user banned. Final decision will be at the discretion of the Taipei Times.