News retrospective: Stocks and shares round-up 狹幅整理 台股小漲 十二點
The Taiwan Stock Exchange underwent a modest consolidation today. At market close the stock market finished up 12.03 points at 9284.31; an increase of 0.13 percent. The transaction amount in New Taiwan dollars was NT$61.723 billion.
The TAIEX ended on 9263.4 points after reaching a high of 9284.31 and a low of 9242.83 during trading, while the financial sub-index rose 13.84 points to close at 7920.71 points.
The TAIEX's eight major stock categories reported a mixture of gains and losses: cement stocks rose 0.18 percent, food shares fell 1.0 percent, plastics and chemicals rose 0.23 percent, while textiles fell 0.36 percent. Electronics and machinery stocks rose 0.19 percent, paper and pulp rose 0.47 percent and construction and financial shares both closed down at 0.31 and 0.19 percent, respectively.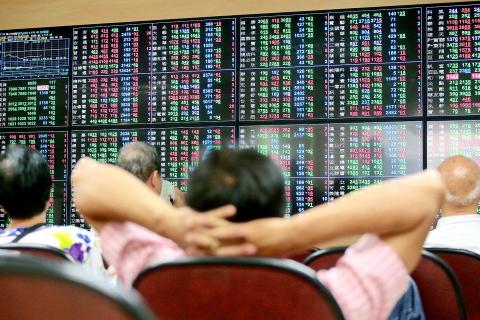 A man looks at an electronic display board at a brokerage firm in an undated photo. 一名男子在證券公司看螢幕上的股市行情,拍照日期不明。
Photo: CNA
照片:中央社
This article was first published on Oct. 6.
(CNA, translated by Edward Jones)
台北股市今天狹幅整理,收盤漲十二點零三點,為九千兩百八十四點三一點,漲幅百分之零點一三,成交金額新台幣六百十七億兩千三百萬元。
加權指數今天開盤為九千兩百六十三點四點,盤中最高九千兩百八十四點三一點,最低九千兩百四十二點八三點;不含金融股指數七千九百二十點七一點,漲百分之十三點八四點。
八大類股漲跌幅為:泥窯股漲百分之零點一八、食品股跌百分之一、塑化股漲百分之零點二三、紡織股跌百分之零點三六、機電股漲百分之零點一九、造紙股漲百分之零點四七、營建股跌百分之零點三一、金融股跌百分之零點一九。
(中央社,本文已於十月六日刊登)
Comments will be moderated. Keep comments relevant to the article. Remarks containing abusive and obscene language, personal attacks of any kind or promotion will be removed and the user banned. Final decision will be at the discretion of the Taipei Times.