"Faster" cable extension gets switched on 「Faster」海纜延伸段 正式開通
On Sept. 6, Google announced the official opening of the Taiwan extension of Faster — the world's fastest undersea fiber-optic cable. The new link will enable transmission speeds between Taiwan and Japan to reach 26 terabits (Tb) per second — more than 100 times faster than previously. As well as benefiting users in Taiwan and Japan, the Faster undersea cable will greatly increase the speed of data transmission between Taiwan and other parts of Asia.
Since Google's biggest data center in Asia is located in Taiwan, now that Faster's Taiwan extension has gone into operation, it is expected to improve user experience on Google Search, YouTube, Google Maps, Gmail and other products. As well as individual users, Google's corporate cloud service users and advertisers will benefit from enhanced computing efficiency thanks to the increased bandwidth and transmission speed.
Running between the US West Coast and Japan, Faster is 9,000 kilometers long and cost US$300 million to build. Total investment in the Taiwan extension is US$50 million. The new link makes Taiwan into an important international telecommunications relay station, and in future the Asian region will see more Google undersea fiber-optic cables going into operation one after another.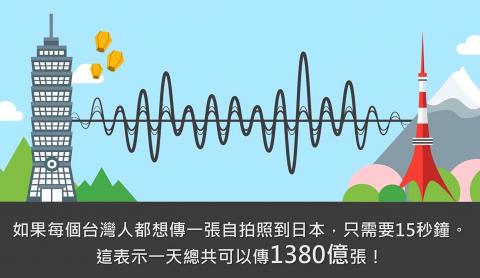 An image incorporating the Taipei 101 skyscraper and the Tokyo Tower illustrates the improved bandwidth and transmission speeds that the Faster undersea fiber-optic cable's Taiwan extension will provide between the two countries. 圖為台北一○一與東京鐵塔插畫,Faster光纖海纜將提升兩地之間的數據傳輸速度及頻寬。
Photo courtesy of Google Taiwan
照片:谷歌台灣提供
Google says that the number of Internet users in Asia is growing rapidly. As well as setting up two data centers in Asia — in Taiwan and Singapore — by connecting data transmission between America and various parts of Asia via Faster, Google will be able to strengthen the quality of its services.
(Liberty Times, translated by Julian Clegg)
谷歌九月六日宣布,全球最高速的海底光纖電纜Faster台灣延伸段正式開通,台、日兩地間傳輸速度將可達到每秒廿六兆位元(Tb)水準,比目前快上百倍。Faster海纜除讓台、日兩地使用者受惠,更大幅提升經台灣傳送至亞洲各地的數據傳輸速度。
由於谷歌亞洲最大的資料中心位於台灣,Faster台灣延伸段啟用後,預計能強化谷歌搜尋、YouTube、谷歌地圖、Gmail等產品的使用經驗。且除了個人用戶,谷歌的雲端企業用戶和廣告客戶,也將因頻寬和傳輸速度的提升,獲得更佳的運算效率。
Faster從美國西岸連接到日本,總長達九千公里,耗資三億美元;台灣延伸段總投資金額達五千萬美元,台灣據此成為主要國際電信中繼站,未來亞洲地區也將有其他谷歌海底光纖電纜陸續投入營運。
谷歌表示,亞洲網路用戶高速成長,除在亞洲設立了位於台灣、新加坡的兩座資料中心,如今更透過Faster串聯美洲與亞洲各地之間的數據傳輸,強化服務品質。
(自由時報記者楊綿傑)
Publication Notes
TODAY'S WORDS
今日單字
1. data center n. phr.
資料中心
(zi1 liao4 zhong1 xin1)
2. user experience n. phr.
使用經驗
(shi3 yong4 jing1 yan4)
3. corporate adj.
企業的
(qi4 ye4 de5)
4. relay station n. phr.
中繼站
(zhong1 ji4 zhan4)
Comments will be moderated. Keep comments relevant to the article. Remarks containing abusive and obscene language, personal attacks of any kind or promotion will be removed and the user banned. Final decision will be at the discretion of the Taipei Times.