Vogue Taiwan celebrates 20th anniversary with photography exhibition Vogue 在台二十週年 打造時尚攝影展
To celebrate its 20th anniversary in Taiwan, Vogue magazine is holding the "Coming into Fashion, Vogue Century Fashion photography exhibition" at Hall 4B of the Huashan 1914 Creative Park in Taipei. The event started on Sept. 15 and will run through Nov. 27.
Vogue magazine is spending NT$25 million on Taiwan's largest fashion photography show in almost 20 years. On the first floor of the venue, "Coming into Fashion: A Century of Photography at Conde Nast" is exhibiting a total of 160 masterpieces from 90 master photographers worldwide. The artworks, which combine fashion with photography, have their own interpretations of stylish figures from each generation, as seen through different photographers' eyes.
Stepping up to the second floor, you will find Vogue Taiwan's 20 Years of Excellent Fashion Image Flashback, which invites visitors to recall the magazine's many achievements since its establishment in Taiwan in 1996. A total of 240 covers from over the past two decades are displayed, including covers of superstars Faye Wong, Anita Mui and Lin Chih-ling.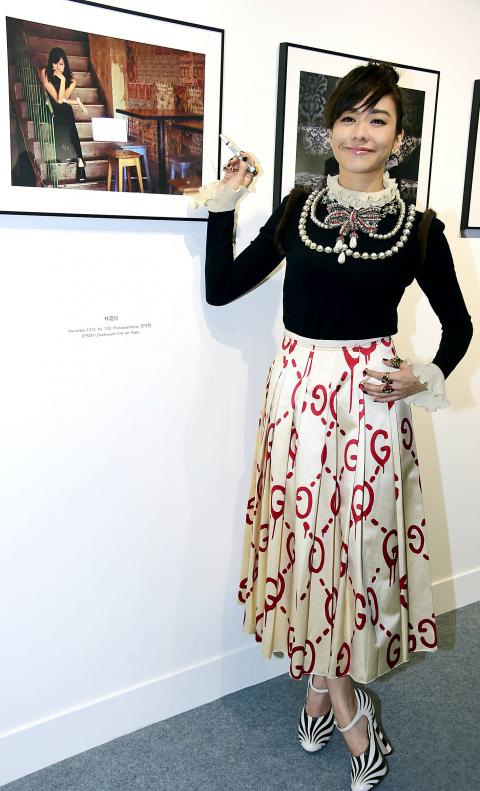 Actress Karena Lam strikes a pose as she signs a photograph of herself taken by Vogue. Kam was attending the grand opening of the magazine's fashion photography show in Taipei on Sept. 15. 女星林嘉欣九月十五日在台北出席Vogue時尚攝影展開幕式,在自己數年前為該雜誌拍的照片上簽名。
Photo: Pang Shao-tang, Taipei Times
照片:自由時報記者潘少棠
(CNA, translated by Eddy Chang)
為慶祝在台二十週年,Vogue雜誌特別舉辦「預見Coming into Fashion,Vogue跨世紀時尚攝影展」,九月十五日至十一月二十七日,在台北的華山1914文化創意產業園區4B館展出。
Vogue雜誌斥資新台幣兩千五百萬元,打造台灣近二十年來最大時尚攝影展。展場一樓規劃為「走入時尚:康泰納仕百年攝影展」,共展出全球九十位攝影大師的一百六十幅傑作。作品以時尚結合攝影,透過攝影師的眼光,詮釋每個世代的風格人物。
走上展場二樓,「Vogue Taiwan精采20時尚影像回顧」帶領觀眾回味自一九九六年在台創立以來的傑出成果。現場展出該雜誌二十年來兩百四十個封面影像,包括王菲、梅豔芳、林志玲等名人影像。
(中央社)
Publication Notes
TODAY'S WORDS
今日單字
1. vogue n.
時尚
(shi2 shang4)
2. photography n.
攝影
(she4 ying3)
3. exhibition n.
展覽
(zhan2 lan3)
4. masterpiece n.
傑作
(jie2 zuo4)
5. stylish adj.
風格的;流行的
(feng1 ge2 de5; liu2 xing2 de5)
Comments will be moderated. Keep comments relevant to the article. Remarks containing abusive and obscene language, personal attacks of any kind or promotion will be removed and the user banned. Final decision will be at the discretion of the Taipei Times.