10,000 trees for Siaogang as Kaohsiung promotes urban greening 高雄推綠化 小港目標種樹萬棵
Since 2012, Kaohsiung Mayor Chen Chu has been promoting urban greening, with the goal of planting a million trees in ten years. In the past five years, 600,000 trees have been planted across Kaohsiung, which puts the city ahead of schedule, and on course to achieving its target of planting a million trees four years early. The plan includes for 10,000 trees planted in Siaogang District before June next year, in a move expected to improve the air quality in its industrial areas.
By the end of this month, Linhai industrial Park will plant 330 crape myrtles, rosy trumpet trees and golden trumpet trees along Maoda Street and elsewhere, while China Steel Corp will plant more trees, including 375 flamboyant trees, 25 rosy trumpet trees and 2,000 camphor trees and jungle flames.
According to Legislator Lai Jui-lung, the first year of the project will concentrate on the surrounding area of the industrial park and the main roads. During the blooming season, the trees lining those streets are expected to give the city a completely new look, Lai says.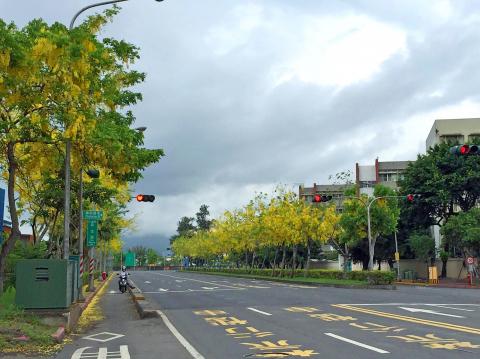 Trees in Kaohsiung's Siaogang District are pictured on September 13. 高雄市小港區的行道樹,攝於九月十三日。
Photo: Huang Hsu-lei, Liberty Times
照片:自由時報記者黃旭磊
In addition, Shaokang Yingcyu Park and Siaogang Gueiling Yangsheng Park — expected to be the "lung of southern Kaohsiung" once completed — will open in June and September next year, respectively.
(Liberty Times, translated by Tu Yu-an)
高雄市長陳菊於一○一年起推動都市綠化「十年百萬」植樹活動,五年來已種植六十萬棵喬木,估計可於一○七年提前達標。其中,小港區預計於明年六月完成一萬棵目標,以改善工業區空氣品質。
臨海工業區管理單位將在本月底前於茂大街等地種植三百三十棵大花紫薇、紅花風鈴木及黃花風鈴木。中鋼則將於沿海四路、中山四路機場綠帶及中鋼路等路段植栽三百七十五棵鳳凰木、廿五棵紅花風鈴木及兩千棵樟樹、矮仙丹等樹種。
立委賴瑞隆表示,小港第一年植樹計畫以臨海工業區周邊道路及主要幹道為主,開花季節可望展現市容新風貌。
而少康營區公園預計在明年六月完成,小港桂林養生公園則預計明年九月完工,兩座森林公園將成為南高雄都市之肺。
(自由時報記者黃旭磊)
Publication Notes
TODAY'S WORDS
今日單字
1. urban greening n. phr. 都市綠化
(du1 shi4 lu4 hua4)
2. flamboyant tree n. phr. 鳳凰樹
(feng4 huang2 shu4)
3. camphor tree n. phr. 樟樹
(zhang1 shu4)
4. main road n. phr. 主要幹道
(zhu3 yao4 gan4 dao4)
Comments will be moderated. Keep comments relevant to the article. Remarks containing abusive and obscene language, personal attacks of any kind or promotion will be removed and the user banned. Final decision will be at the discretion of the Taipei Times.