Giant panda no longer endangered 大熊貓脫離「瀕危」狀態
The International Union for Conservation of Nature said in a report released on Sept 4 that the panda is now classified as a "vulnerable," rather than "endangered," species, reflecting its growing numbers in the wild in southern China. It said the wild panda population jumped to 1,864 in 2014 from 1,596 in 2004, the result of work by Chinese agencies to enforce poaching bans and expand forest reserves.
The report warned, however, that climate change is predicted to eliminate more than 35 percent of its natural bamboo habitat in the next 80 years, potentially leading to another decline.
The panda population reached an estimated low of less than 1,000 in the 1980s due to poaching and deforestation, until Beijing threw its full weight behind the conservation of the animal. The Chinese government and the World Wildlife Fund established the Wolong National Nature Reserve in Sichuan province in 1980. Wild panda numbers have slowly rebounded as China cracked down on the skin trade and gradually expanded its protected forest areas to now cover 1.4 million hectares.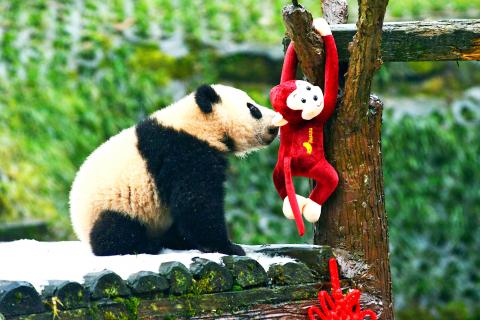 A panda cub is pictured at the China Conservation and Research Center for the Giant Panda in Sichuan Province on February 5. 中國四川「中國保護大熊貓研究中心」內的熊貓寶寶,攝於二月五日。
Photo: CNA, provided by China News
照片:中央社(中新社提供)
(AP)
國際自然保護聯盟於九月四日發表報告指出,因近年來中國南部的野生熊貓數量增加,大熊貓的保育等級已由「瀕危」改為「易危」。該聯盟表示,中國嚴格禁止獵殺熊貓並積極增設保育區,讓野生熊貓數量從二○○四年的一千五百九十六隻增加為二○一四年的一千八百六十四隻。
然而報告也指出,未來的八十年,氣候變遷可能會造成百分三十五的竹林棲地消失,再次衝擊熊貓數量。
在一九八○年代,中國的熊貓受到森林砍伐及盜獵的威脅,估計剩下不到一千隻。直到北京當局全力推動保育工作,情況才有所改善。中國政府與世界自然基金會於一九八○年在四川成立臥龍國家級自然保護區,其後逐步將保育範圍擴大為一百四十萬公頃,並嚴格取締地下毛皮交易,才讓熊貓數量慢慢回升。
(美聯社╱ 翻譯:涂宇安)
Publication Notes
TODAY'S WORDS
今日單字
1. vulnerable adj.
易危;脆弱
(yi4 wei2; cui4 ruo4)
2. poach v.
盜獵
(dao4 lie4)
3. climate change n. phr.
氣候變遷
(qi4 hou4 bian4 qian1)
4. rebound v.
回升
(hui2 sheng1)
Comments will be moderated. Keep comments relevant to the article. Remarks containing abusive and obscene language, personal attacks of any kind or promotion will be removed and the user banned. Final decision will be at the discretion of the Taipei Times.