Different containers for different drinks 不同的飲料需不同的容器
It is very refreshing to drink sour or sweet drinks in summer, but acidic drinks may damage cups and cause them to release chemicals. For example, orange and lemon may damage the inner surface of thermos flasks and make them less able to keep things warm. When acidic drinks like fruit juice and some tea drinks come into contact with polycarbonate (PC) plastic bottles, they can release biphenol A (BPA), which can disrupt the body's hormonal balance and cause obesity, diabetes and cardiovascular diseases. For this reason, PC plastic cups should only be used for cold water.
Polystyrene foam is not a good choice either. As well as being bad for the environment, it can easily release harmful substances when it comes into contact with heat. Polystyrene is a polymer of styrene, and the production technology involved means that incomplete polymerization can easily occur, causing carcinogenic styrene monomers, dimers and trimers to be released.
The best material for cups used to contain acidic drinks is glass, which is a stable material that can be reused and does not release chemicals. However, you do have to take care not to subject it to sharp changes in temperature, otherwise it might crack.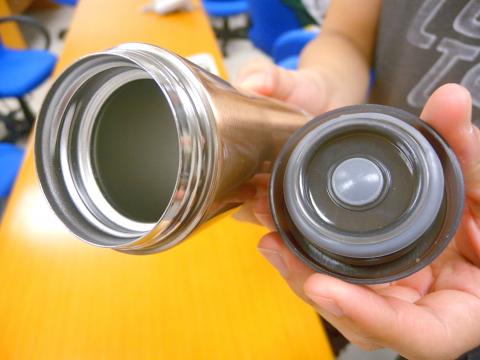 A mixed-material flask with a stainless steel body and plastic lid is seen in Taipei on April 19. 瓶身為不鏽鋼、蓋子為塑膠的「混搭類」保溫盃,四月十九日拍攝於台北。
Photo: Wu Liang-i, Liberty Times
照片:自由時報記者吳亮儀
Food and Drug Administration regulations say that food containers whose contact surface contains plastic, and even mixed-material containers with stainless steel bodies and plastic lids, must be labeled with information about their composition, heat resistance temperature and whether they are reusable or for single use only.
(Liberty Times, translated by Julian Clegg)
夏天來點酸酸甜甜的飲料相當消暑,不過,酸性的飲料可能會傷害杯子、釋出化學物質,例如像橙汁、檸檬汁等,可能會損害保溫杯的內壁,影響保溫功能。果汁、茶飲等酸性飲料,遇到PC(聚碳酸酯材質)塑膠瓶恐釋出雙酚A,它會干擾人體荷爾蒙平衡狀態,造成肥胖、糖尿病及心血管疾病,建議PC塑膠類的杯子拿來裝冷水就好。
另外,保麗龍也並非好選擇,除了較不環保外,它遇熱很容易釋出有害物質,保麗龍是苯乙烯聚合物,受限製作技術,容易導致聚合不完全,容易釋出苯乙烯單體、雙體及三體等致癌物質。
裝酸性飲料最好的材質就是玻璃,它材質穩定、可重複使用,且不會釋出化學物質,只是要注意冷熱差別太大,不然可能破裂。
按照食藥署的規定,食品容器接觸面含塑膠材質,即使瓶身為不鏽鋼、蓋子為塑膠的「混搭類」容器,也須標示材質、耐熱溫度及重複性或一次使用等資訊。(自由時報記者吳亮儀)
Comments will be moderated. Keep comments relevant to the article. Remarks containing abusive and obscene language, personal attacks of any kind or promotion will be removed and the user banned. Final decision will be at the discretion of the Taipei Times.