The mystery of koalas unraveled 無尾熊大解密
Why are koalas always sleeping? Don't koalas have tails? Are koalas bears? To answer questions about koalas from members of the public, Taipei Zoo organizes educational talks at its Koala House every Thursday and Saturday at 11am. Koala keepers have even made illustrated books to help visitors gain quick and in-depth knowledge about the animal.
The staple diet of koalas is Eucalyptus leaves, which are rich in fiber but low in calories. In order to conserve energy, koalas spend most of their time resting and can sleep 18 to 20 hours a day. For anyone who wants to see a koala "in action," a good time to visit the koalas would be at 2 o'clock in the afternoon, when keepers bring a new supply of Eucalyptus leaves into the enclosure.
The name "koala" originated from a term in an Australian aboriginal dialect, meaning "no drink." Eucalyptus leaves contain a high amount of moisture, so koalas seldom need to drink water. Nonetheless, the zoo keepers still prepare a bowl of water for the koalas in case they need it.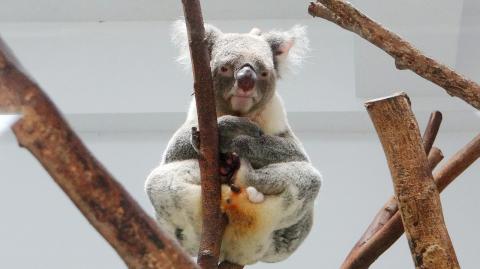 An adult koala rests on a tree branch in an undated photo. 一隻成年無尾熊攀在樹枝上歇息,拍照日期不明。
Photo courtesy of Taipei Zoo
照片:台北市立動物園提供
Furthermore, the koala's Chinese name, "wuweixiong," which literally means "tailless bear," has often caused people to mistake the animal for a bear without a tail. In fact, koalas do have tails. What's more, they are marsupials, not bears. When they are old enough to leave their mother's pouch, koala cubs have relatively noticeable tails, while adult koalas have long hair which often conceals their tails.
(LIBERTY TIMES, TRANSLATED BY TU YU-AN)
為什麼無尾熊總是在睡覺?無尾熊沒有尾巴嗎?無尾熊是熊嗎?為了解答民眾對於無尾熊的疑問,台北市立動物園每週四和週六上午十一點在無尾熊館推出講解課程,保育員還自製無尾熊繪本,引導遊客深入且快速地認識無尾熊。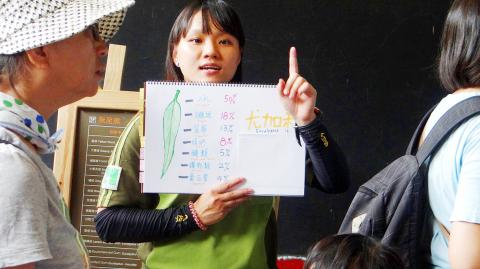 A zoo keeper uses an illustrated book she has made to help visitors understand the koala's diet in an undated photo. 保育員利用自製繪本向遊客介紹無尾熊的飲食習性,拍照日期不明。
Photo courtesy of Taipei Zoo
照片:台北市立動物園提供
無尾熊的主食尤加利葉屬於高纖、低熱量的食物,為了節省能量消耗,無尾熊大部分時間處於休息狀態,一天要睡上十八至二十小時。如果要看無尾熊「動起來」,可選在下午兩點保育員添置尤加利葉時前往。
無尾熊的名稱「Koala」源自於澳洲原住民方言,意指「不喝水」。因尤加利葉水分含量高,無尾熊通常不須喝水,但保育員還是會為無尾熊準備一盆水備用。
另外,中文「無尾熊」一詞也常讓民眾誤以為無尾熊是沒有尾巴的熊,實際上,無尾熊有尾巴,而且是有袋類,不是熊。剛離開育兒袋的小無尾熊寶寶尾巴較明顯,成年的無尾熊尾巴則多半是被長長的毛蓋住而不明顯。
(自由時報記者梁珮綺)
Publication Notes
TODAY'S WORDS
今日單字
1. staple a.
主要的 (zhu3 yao4 de5)
例: Bread is their staple food.
(麵包是他們主要的食物。)
2. originate from v. phr.
源自 (yuan2 zi4)
例: The name of the product originated from a movie in the 1970s.
(這個產品的名稱源自於一九七O年的一部電影。)
3. pouch n.
育兒袋 (yu4 er2 dai4)
例: The joey fell asleep in its mother's pouch.
(小袋鼠在媽媽的育兒袋裡睡著了。)
Comments will be moderated. Keep comments relevant to the article. Remarks containing abusive and obscene language, personal attacks of any kind or promotion will be removed and the user banned. Final decision will be at the discretion of the Taipei Times.