New Taiwan dollar ends trading on 11-month high 外資匯入 新台幣創十一個月高
On Wednesday last week, the New Taiwan dollar exchange rate continued to rise off the back of foreign direct investment inflows and a stronger South Korean won. At close of trading on Wednesday the NT dollar was trading at NT$32.183 against the US dollar, a rise of 3.7 percent, which marks an 11-month high for the NT dollar.
Total trade volumes at the Taipei Foreign Exchange and Cosmos Foreign Exchange markets reached US$1.12 billion on Wednesday.
Currency traders said US stocks continued to rise, while Asian stock markets all made gains and were in a bullish mood.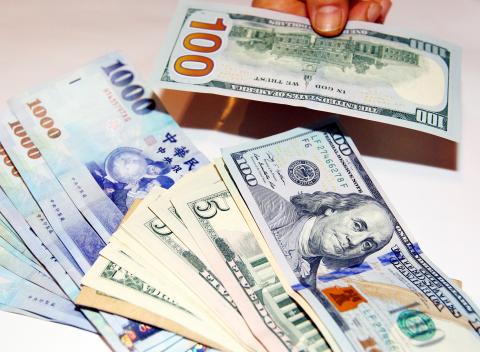 New Taiwan dollar and US dollar bank notes are pictured in an undated photo. 圖為新台幣與美元紙鈔,照片日期不明
Photo: CNA
照片:中央社
The TAIEX fluctuated mid-way through trading and by market close had made only modest gains, rising 16.29 points. However, overbuying of TAIEX stocks by foreign investors to the tune of NT$9.40 billion, in addition to a rising South Korean won, provided the impetus for a soaring NT dollar exchange rate.
By close of trade, the NT dollar broke through its pre-Brexit referendum high, achieving a record 11-month high.
(CNA, TRANSLATED BY EDWARD JONES)
受外資匯入、韓元走強影響,上週三新台幣匯價持續走高,終場以三十二點一八三元兌一美元作收,升值三點七分,並創十一個月以來新高。
上週三台北與元太外匯經紀公司總成交量十一點二億美元。
外匯交易員表示,美股持續上漲,亞股普遍走揚,市場瀰漫看多氣氛。
台股雖呈區間震盪,終場僅小漲十六點二九。但外資仍買超台股新台幣九十四點○億元,加上韓元走升,帶動新台幣匯價持續攀升。
終場一舉突破英國脫歐公投前高點,創十一個月以來新高。
(中央社)
Publication Notes
TODAY'S WORDS
今日單字
1. bullish mood n. phr.
看多氣氛 (kan4 duo1 qi4 fen1)
2. modest gain n. phr.
小漲 (xiao2 zhang3)
3. overbuy v.
買超 (mai3 chao1)
4. break through v. phr.
一舉突破 (yi4 ju3 tu2 po4)
Comments will be moderated. Keep comments relevant to the article. Remarks containing abusive and obscene language, personal attacks of any kind or promotion will be removed and the user banned. Final decision will be at the discretion of the Taipei Times.