New-wave technology on show at Computex Taipei 台北國際電腦展 秀出新潮科技
This year's Computex Taipei was held at the beginning of June. This specialist exhibition attracts technology professionals and buyers from all over the world to visit every year. Although it may seem a bit remote from ordinary consumers, it still offers a glimpse of new trends in high-tech products for the coming year.
Computex has been held each year for more than three decades. This year the uncontested hottest topics and product applications were virtual reality, the Internet of Things and robot applications which are more closely relevant to consumer's lives. A new feature arranged for this year's show was InnoVEX — a special section devoted to innovation and startups. As well as providing space for startup teams to demonstrate their wares, it was also a stage for many big international manufacturers to exhibit their innovative technology applications.
One of the hottest exhibits was German carmaker Audi's latest all-digital virtual cockpit technology, which allows drivers to choose, according to their preferences, to display conventional information including a tachometer and speedometer, or switch to a big-screen map navigation system. In conjunction with a human-machine user interface and quick-access keys on the steering wheel, this makes it easier for the driver to grasp all kinds of driving information and perform driving settings and operations through touch or spoken commands.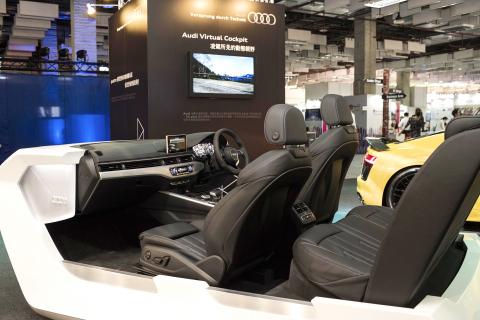 A car interior featuring Audi's virtual cockpit display technology is exhibited at Computex Taipei on June 1. 配有奧迪虛擬座艙顯示技術的汽車內裝六月一日展示於台北國際電腦展。
Photo: Yang Ya-min, Liberty Times
照片:自由時報記者楊雅民
(Liberty Times, translated by Julian Clegg)
今年的台北國際電腦展六月初舉行。這個每年吸引全球各地科技專業人士與買主參與的專業展會,雖然看似與一般消費者有點距離,但我們還是可以從中看出新一年度的高科技產品新趨勢。
已經舉辦三十多年的國際電腦展,今年最熱門的話題與產品應用,莫過於虛擬實境、物聯網與更接近消費者生活的機器人應用。而今年首度設立「創新與新創專區InnoVEX」,除了提供剛起步的新創團隊表現的空間之外,也是多家國際大廠展示創新科技應用的表演場。
最熱門的展區之一,就是德國汽車產商奧迪展示的最新全數位虛擬座艙技術,透過此技術,駕駛可依喜好選擇顯示傳統的引擎轉速表和時速表等資訊,也可切換成大面積地圖導航,搭配人機操作介面及方向盤上快捷操作鍵,讓駕駛者可以更輕鬆掌握各種行車資訊,也能透過觸控或語音指令進行駕駛設定操作。
(自由時報記者黃筱晴)
Publication Notes
TODAY'S WORDS
今日單字
1. startup n.
新創公司
(xin1 chuang4 gong1 si1)
例: Generally speaking, startups are a risky investment.
(一般來說,投資新創公司帶有風險。)
2. cockpit n.
座艙;駕駛艙
(zuo4 cang1; jia4 shi3 cang1)
例: The pilot climbed into the cockpit and prepared for takeoff.
(駕駛爬入座艙並準備起飛。)
3. tachometer n.
轉速表
(zhuan3 su4 biao3)
例: The unit displayed on a tachometer is rpm, meaning revolutions per minute.
(轉速表顯示的單位為rpm,即每分鐘轉數。)
Comments will be moderated. Keep comments relevant to the article. Remarks containing abusive and obscene language, personal attacks of any kind or promotion will be removed and the user banned. Final decision will be at the discretion of the Taipei Times.