It's a long road... 環 島 中
It was no time to be out on the streets, exposed to the fierce sun. In the sleepy town of Miaoli County's Baishatun Town, in the local 7-11 in which we sought refuge from the mid-afternoon sun, we chanced upon a man with a mission. Chien Pei-che, 22, recently graduated, had decided to walk around the island.
Doing it by motorbike would be too fast. Where would be the fun in that?
He had considered cycling around the island on a bike, but had not had time to get used to long distance riding.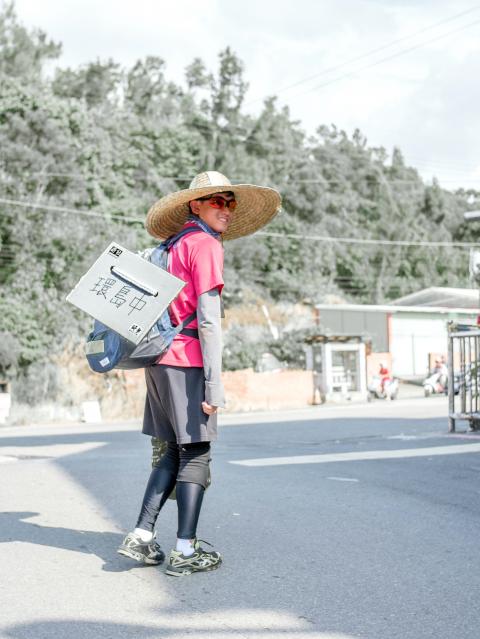 Adventurer Chien Pei-che, 22, leaves Baishatun on July 1 on his quest to walk around the island. 二十二歲的冒險家簡培哲七月一日離開白沙屯,繼續他的環島之旅
Photo: Paul Cooper, Taipei Times
照片:台北時報古德謙
He does quite a bit of running, however, so he was confident he could do the trip on foot.
Chien told us he had been wanting to do this for a long time, but he had never really had the time before, until he graduated from university. He had spent the last month planning what he needs to take, finding out about other people's experiences of traveling around the island by searching online.
We met him on his fourth day. He started from New Taipei City's Yingge District. His plan is to walk down the west coast, around the coast and up to Taitung and then Hualien on the east coast. This year there have been a lot of earthquakes, so he would prefer to bypass the Suhua Highway. He plans to take the train from Hualien up to Suao, and then he will continue on foot to Yilan and then back to Yingge.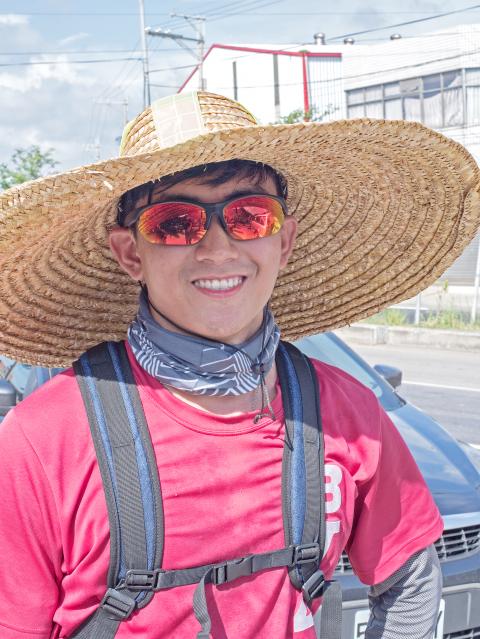 Adventurer Chien Pei-che, 22, smiles in Baishatun on July 1. 二十二歲的冒險家簡培哲,笑逐顏開;攝於七月一日,白沙屯。
Photo: Paul Cooper, Taipei Times
照片:台北時報古德謙
People along the way, seeing the big sign on his back, saying "Going Around the Island," have been shouting out encouragement; some have given him food or water to help him on his way; some have offered to give him a lift for a part of the way.
All in all, he expects the trip to take around 40 days, allowing for down days when he cannot walk because of bad weather.
(Paul Cooper, Taipei Times)
烈日當頭,沒有人會想在這個時候外出,讓自己暴露在豔陽下。而在那個苗栗縣的寂靜小鎮白沙屯,我們為了躲避中午的陽光,躲進當地的一間統一超商,巧遇了一名任務在身的男子。今年二十二歲的簡培哲最近才剛畢業,打算徒步環島。
騎機車的話,速度太快。太快,有什麼好玩?
是也考慮過騎單車環島,但沒有足夠的時間讓自己習慣長途騎乘。
倒是,跑步的經驗還不少,因此靠自己的雙腳完成這趟旅程應該十拿九穩。
簡培哲說他夢想做這件事已經想很久了,只是一直都沒有時間逐夢。直到,大學畢業。上個月,他花了一個月的時間籌備旅行必備的東西,並上網搜尋參考別人的環島經驗。
而就在他環島之旅的第四天,我們相遇了。他這趟旅程的起點是新北市的鶯歌區,從西海岸開始走,沿著海岸線走到東岸的臺東與花蓮。今年地震不少,因此蘇花公路就直接跳過了。花蓮至蘇澳這一段將會是鐵道之旅,然後從宜蘭開始他會徒步走回鶯歌。
路途中,大家看到他背著的一個寫著「環島中」的大標語都會對他高喊加油,有些人則拿食物或水跟他分享,也有人邀他上車,為他的長途跋涉載上短短的一程。
總的來說,他預計這趟旅程大概會花四十天左右的時間完成,其中包括因天候不佳不宜步行的日子。(台北時報詹豐造翻譯)
Comments will be moderated. Keep comments relevant to the article. Remarks containing abusive and obscene language, personal attacks of any kind or promotion will be removed and the user banned. Final decision will be at the discretion of the Taipei Times.