Butterfly spectacle in Yushan National Park 玉山塔塔加蝴蝶過境 賞蝶勿擾生態
Every year between May and October, waves of purple crow and blue tiger butterflies fly over the Tataka Saddle on Yushan (Jade Mountain). The Yushan National Park Administration Office asks the public to avoid disturbing the ecological environment and to pay attention to weather and road conditions in mountainous areas.
According to the office, surveys have detected 282 species of butterfly belonging to 11 different families within the Tataka Saddle, Meishan and Nanan areas of the park, demonstrating that Yushan's ecology provides a rich breeding ground for butterflies. The Tataka Saddle is an area through which many milkweed butterflies and birds must pass and one can often see six species of blue tiger butterfly and four species of purple crow butterfly flying over the area from Shueili Township and Dongpu Village in Sinyi Township toward the Nanzihsian River.
(CNA, translated by Edward Jones)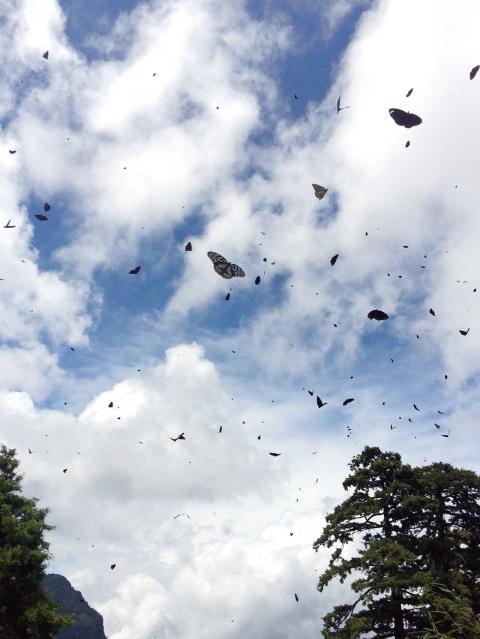 Butterflies fly over Yushan's Tataka Saddle in Nantou County in an undated photo. 蝴蝶飛越南投縣玉山的塔塔加鞍部,拍照日期不明。
Photo: CNA, courtesy of the Yushan National Park Administration Office
照片:中央社,玉山國家公園管理處提供
玉山國家公園塔塔加鞍部每年五月到八月,陸續有紫斑蝶、青斑蝶類飛越,管理處籲賞蝶民眾勿干擾生態環境,注意山區天氣及路況。
玉山國家公園管理處表示,園內塔塔加、梅山、南安地區,陸續調查發現十一科、兩百八十二種蝴蝶出沒,顯示玉山園區孕育豐富蝴蝶生態,塔塔加鞍部是許多斑蝶與鳥類移動必經處,常見六種青斑蝶類、四種紫斑蝶,由水里鄉、信義東埔,飛越塔塔加鞍部前往楠梓仙溪方向。(中央社)
Publication Notes
TODAY'S WORDS
今日單字
1. fly over v. phr.
飛越
(fei1 yue4)
2. disturb v.
干擾
(gan1 rao3)
3. survey n.
調查
(diao4 cha2)
4. ecology n.
生態
(sheng1 tai4)
Comments will be moderated. Keep comments relevant to the article. Remarks containing abusive and obscene language, personal attacks of any kind or promotion will be removed and the user banned. Final decision will be at the discretion of the Taipei Times.