City plans info desks to save Rueifang bats 守護蝙蝠 瑞芳設蝙蝠資訊站
Director of the New Taipei City Animal Protection and Health Inspection Office Chen Yuan-chuan on June 28 said it plans to set up three bat info desks, respectively in Rueifang District Office, Haibin Borough Office and Rueifang Animal Shelter. In future, when members of the public see an injured bat, they can contact the nearest info desk or send it directly to one of them.
The number of bent-wing bats in the area near Haibin Tunnel in Rueifang District's Haibin Borough is the highest not only in Taiwan, but also in East Asia. The area, which has a rich diversity of plants and plenty of mosquitoes and flies, has every year attracted many bent-wing bats to come to breed.
Chen says that female bent-wing bats usually move into a cave around April, and give birth to pups in July or August. After September, female bats and their pups leave the cave and migrate to southern Taiwan for the winter. As bat pups tend to be physically weaker, while flying, they often get hit by cars and end up injured or dead. Chen notes that, when members of the public see an injured bat, they should avoid touching it with bare hands, and should only pick it up using a plastic bag or wearing gloves, so as to avoid being bitten. Since bats are nocturnal animals, when caring for them, one should also avoid placing them directly under bright lights, Chen says, adding that if one gets bitten or scratched by a bat, the bite must be immediately cleansed with soap for five minutes and rinsed with plenty of water. In addition, the person must go to the hospital to receive a vaccine for tetanus and rabies. The bat which caused the injury, on the other hand, must be sent to the Animal Protection and Health Inspection Office to be screened for disease.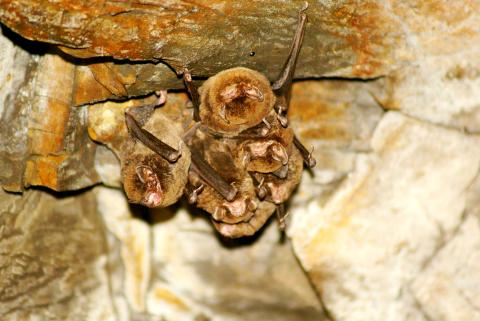 Bats nestle in a cave in an undated photo. 圖為洞穴內依偎棲息的蝙蝠,攝影日期不明。
Photo courtesy of Bat Conservation Society of Taipei
照片:台北巿蝙蝠保育學會提供
(Liberty Times, translated by Tu Yu-an)
新北市政府動物保護防疫處長陳淵泉六月二十八日表示,將在瑞芳區公所、海濱里辦公處、瑞芳動物之家成立三處蝙蝠資訊站。民眾如有發現受傷的蝙蝠,可以就近聯繫資訊站人員或直接將蝙蝠送到資訊站。
瑞芳區海濱里海濱隧道附近的摺翅蝠不僅是全台最多,也是東亞之冠。該地區由於林相豐富、蚊蠅多,每年吸引大量摺翅蝠聚集並繁殖後代。
陳淵泉說,雌摺翅蝠四月起會進駐洞內,七、八月生出幼蝠,九月以後帶著幼蝠飛離,遷往台灣南部過冬,然幼蝠因體力較弱,飛行時常遭車輛撞擊造成傷亡。
陳淵泉提醒,若發現受傷蝙蝠,不可以用手直接碰觸,需用塑膠袋或戴上手套將蝙蝠拾起,避免被蝙蝠咬傷;因為蝙蝠為夜行性動物,收容時要應避免直接用燈光照射,若不幸被咬傷或抓傷,必須馬上以肥皂清洗五分鐘後,再用大量清水沖洗,並到醫院施打破傷風疫苗及狂犬病疫苗,咬傷人的蝙蝠則交由動保處檢驗。(自由時報記者何玉華)
Publication Notes
Warm up
暖身題
How many bat species are there in Taiwan?
台灣共有幾種蝙蝠?
What should you do when you find an injured bat?
發現受傷的蝙蝠該怎麼辦?
What should you do when you get bitten by a bat?
被蝙蝠咬了該怎麼辦?
Comments will be moderated. Keep comments relevant to the article. Remarks containing abusive and obscene language, personal attacks of any kind or promotion will be removed and the user banned. Final decision will be at the discretion of the Taipei Times.