Specially-decorated Puyuma Train extends service 普悠瑪台東八景列車延後拆除
Taitung County Government has recently negotiated with Taiwan Railways Administration (TRA) to postpone the removal of a series of images designed by Xiao Ching-yang, depicting eight iconic scenes of Taitung on the exterior of a Puyuma Express train. The Puyuma train has been operating for two years, with the decoration originally planned to be removed on June 13, but after discussion with the county government, TRA decided to keep the decorated train in service for an extended period.
According to Taitung County Government, the train is designed based on the idea of an island of stories. The train is decorated with images of the eight most iconic impressions of Eastern Taiwan: rising hot air balloons, breeze in the meadow, tropical coconut forests, breeze from the Pacific Ocean, fragrant rice paddies in the valley, annual harvest festivals, the first ray of sunlight in sunny Taiwan and the beauty of tribal villages.
The initial plan was to run the specially-decorated train for only a year, but due to its high popularity TRA decided to extend its service and has continued to run it since then, says Taitung County Government. It was then planned that the train would only run until June 13, but as it was so widely loved by the public, TRA and the county government took into consideration the public's feelings and decided to postpone the removal of the designs. The country government thanked the public for their love and support for the decorated Puyuma train, and added that they will inform the public as soon as they have more good news.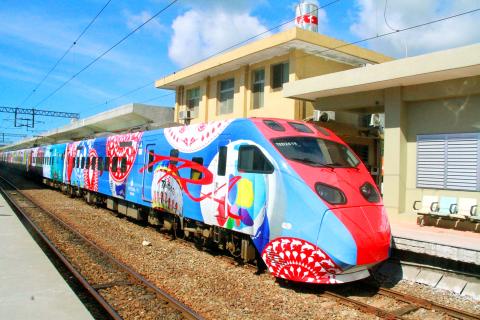 A Puyuma train with eight iconic scenes of Taitung on its body, a design by, stops at a train station in Taitung on June 11. 台東八景普悠瑪彩繪列車六月十一日駛進台東一處車站。
Photo: Huang Ming-tang, Liberty Times
照片:自由時報記者黃明堂
(LIBERTY TIMES, TRANSLATED BY TU YU-AN)
由蕭青陽以台東八景設計的「普悠瑪彩繪列車」,在行駛兩年後,原訂十三日卸下塗裝,日前經台東縣政府向台鐵爭取延期,經協調後將延長保留彩繪塗裝。
台東縣政府表示,這部列車是根據故事島的概念所設計。該彩繪列車繪有東台灣的八大印象:熱氣球升空、草原的風、南島椰林、太平洋的風、縱谷間的稻米香、年度豐年祭、太陽之國的第一道曙光、部落之美。
原訂的彩繪列車行駛時間只有一年,但因大受歡迎而延長至今。原訂十三日起不再延長,但台東縣府說,因彩繪列車廣受民眾喜愛,台鐵局及縣府考慮到大家的感受,決定延期拆除,感謝大家對普悠瑪彩繪列車的喜愛與支持,有更多好訊息將會隨時告知大眾。
(自由時報記者黃明堂)
Publication Notes
TODAY'S WORDS
今日單字
1. impression n.
印象 (yin4 xiang4)
例: He gives the impression of someone who wants to please everyone.
(他給人一種想要討好所有人的印象。)
2. widely-loved adj.
廣受喜愛 (guang3 shou4 xi3 ai4)
例: Li Bai is a widely-loved poet.
(李白是廣受喜愛的詩人。)
3. take into consideration v. phr.
考慮到 (kao3 lu4 dao4)
例: There are many things to take into consideration when adopting a dog.
(若要收養狗,需要考慮到很多事情。)
Comments will be moderated. Keep comments relevant to the article. Remarks containing abusive and obscene language, personal attacks of any kind or promotion will be removed and the user banned. Final decision will be at the discretion of the Taipei Times.