Nanhua geyser erupts for second time this year 南化泥火山噴發 二O六震後首見
After the eruptions in Pingtung's Wandan and Kaohsiung's Niaosong districts, a mud geyser in Tainan's Nanhua District started erupting on May 9. It is the second time this has happened so far this year and the first time since the Feb 6 earthquake. Local history researcher Lai Ming-chang, who has been monitoring these things for a long time now, believes they should be considered a cyclical release of energy, and has determined that they are unrelated to the frequent earthquakes in eastern Taiwan.
According to Lai, who has already been closely monitoring the Nanhua mud geyser for a decade now, the May 9 eruption started early in the morning, around 6am, when signs of agitation began appearing in the pond water, and these gradually became a rolling boil before entering the eruption stage, which continued well into the afternoon.
The Nanhua mud geyser is located in a private mango orchard in Yanshuei Keng in Yushan Borough. It is a remote location, and Lai says that the first eruption this year happened on the day of the Feb 6 earthquake, and is thought to have been instigated by that tremor.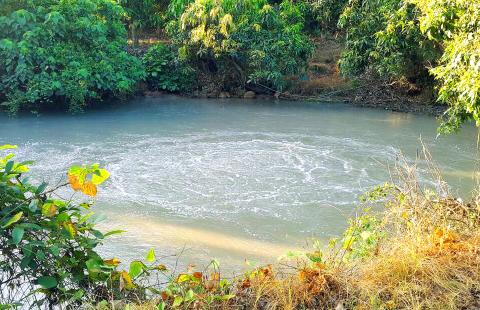 Tainan's Nanhua mud geyser bubbles on May 9. It is the second time this year the geyser has erupted, and the first time since the Feb 6 earthquake. 台南南化泥火山五月九日冒泡。這是南化泥火山今年第二次噴發,為二○六地震後首見。
Photo: Wu Chun-feng, Liberty Times
照片:自由時報記者吳俊鋒
Unlike the Wandan and Niaosong geysers, the one at Nanhua has a permanent opening, and Lai can predict the time of an energy release by environmental phenomena in the locale. He believes that this is a great open-air classroom for geological activity, and makes it worthwhile monitoring and studying over the long-term. Lai has discovered that the Nanhua mud geyser will erupt at the most five times a year, and the cyclical energy release will continue for two weeks at the shortest, 20 months at the longest.
(Liberty Times, translated by Paul Cooper)
繼屏東萬丹、高雄鳥松之後,台南南化區的泥火山五月九日也開始噴發,是今年第二次,為二○六地震後首見。長期投入觀測的文史工作者賴銘章研判,這是屬於週期性的能量釋放,研判與近來東部頻繁地震無關。
貼近觀察南化泥火山已十年的賴銘章表示,五月九日一早六點開始釋放能量,池水出現攪動跡象,後來逐漸有比較激烈的翻滾,接著進入噴發狀態,直到下午仍持續中。
南化泥火山位於玉山里鹽水坑私人芒果園,地點偏僻,賴銘章說,今年首度噴發在二○六強震當日,被認為是地牛翻身所牽動。
與萬丹、鳥松不同,南化這處泥火山有固定噴發口,賴銘章已可針對附近環境現象,預測能量釋放時間,他認為這是地質活動的最佳戶外教室,值得進行長期觀測、研究。賴銘章觀察,南化泥火山最多一年曾噴發五次,能量釋放週期最短兩週,最長達二十個月。
(自由時報記者吳俊鋒)
Publication Notes
TODAY'S WORDS
今日單字
1. erupt v.
噴發 (pen1 fa1)
例: Flights from the UK have been canceled, as Eyjafjallajokull has erupted again.
(埃亞菲亞德拉火山再次噴發,從英國出發的航班已取消。)
2. cyclical adj.
週期性 (zhou1 qi2 xing4)
例: This will happen again. It's a cyclical phenomenon.
(還會再發生的,這是週期性現象。)
3. tremor n.
震動;地牛翻身 (zhen4 dong4; di4 niu2 fan1 shen1)
例: Did you feel the tremor this morning?
(你今天早上感到地牛翻身了嗎?)
Comments will be moderated. Keep comments relevant to the article. Remarks containing abusive and obscene language, personal attacks of any kind or promotion will be removed and the user banned. Final decision will be at the discretion of the Taipei Times.