Yunlin County Commissioner has veggie meal with schoolkids 節能減碳 雲縣長帶學童吃蔬食愛地球
To mark Earth Day, on April 22 Yunlin County Commissioner Lee Chin-yung had a vegetarian meal with children at Dounan Elementary School, so that the children could appreciate how vegetarianism is a practical and easy way of fighting global warming. As well as joining the children for a vegetarian meal, Lee and the children signed a pledge promising to use paper sparingly, prepare their own water flasks, take care of trees, collect resources for recycling, use reusable eco-friendly bags and eat locally produced food.
Yunlin County's Education Department says that global warming and the greenhouse effect are getting worse by the day and research results show that this is mainly caused by the huge amount of carbon dioxide emitted by human activity, and eating habits are one of the factors that influence the quantity of carbon dioxide emissions.
In view of this, the county government is promoting the idea of eating more vegetarian food in all of the county's 187 junior high schools and elementary schools, with each school providing a vegetarian lunch once a week. The program has been running for seven years, with priority given to choosing locally produced foods and non-genetically modified ingredients.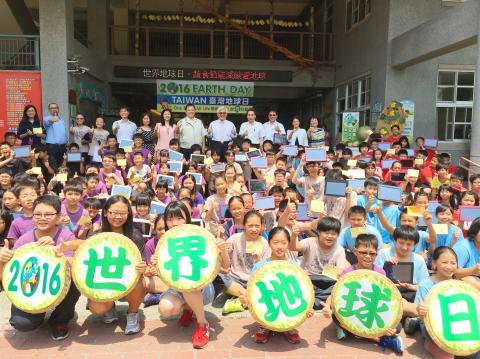 Yunlin County Commissioner Lee Chin-yung, back row with white hair, poses with teachers and students at Dounan Elementary School on April 22. 雲林縣長李進勇(後排白髮者)四月二十二日與斗南國小師生於校內合影。
Photo: Huang Shu-li, Liberty Times
照片:自由時報記者黃淑莉
(Liberty Times, translated by Julian Clegg)
為響應世界地球日,雲林縣長李進勇四月二十二日與斗南國小學童一起吃蔬食,讓學童瞭解蔬食是一種具體、簡單可行的抗暖化方式。除與學童共進蔬食,李進勇也與學童一起簽署承諾,包括會愛惜紙張、自備環保水壼、愛護樹木、做好資源回收、使用可重複使用的環保袋及選用在地食材等。
雲林縣教育處指出,地球暖化及溫室效應日益嚴重,研究結果顯示,主要是因人為活動中排放大量的二氧化碳所致,而飲食習慣即是影響二氧化碳排放量的因素之一。
有鑑於此,縣府在全縣一百八十七所國中小學推動「多吃蔬食」,各校每週提供一餐蔬食午餐,實施至今已七年,且優先選擇在地食材及非基因改造食材。
(自由時報記者黃淑莉)
Publication Notes
TODAY'S WORDS
今日單字
1. pledge n.
承諾 (cheng2 nuo4)
例: I hope the new mayor fulfills her pre-election pledges.
(我希望新市長能兌現選前的承諾。)
2. reusable adj.
可重複使用 (ke3 chong2 fu4 shi3 yong4)
例: In Taiwan, goat's milk can be delivered in reusable bottles.
(在台灣,羊奶可以用可重複使用的瓶子運送。)
3. greenhouse n.
溫室 (wen1 shi4)
例: In colder climates some fruits can only be grown in greenhouses.
(在比較寒冷的氣候裡,某些水果只能種植在溫室裡。)
Comments will be moderated. Keep comments relevant to the article. Remarks containing abusive and obscene language, personal attacks of any kind or promotion will be removed and the user banned. Final decision will be at the discretion of the Taipei Times.