Misalamaay kami anini We're having fun 我們正在玩耍
Lahok Oding, who turned 33 this year and is an Amis Aborigine, used to make ends meet by working for other people. Three years ago, she began to feel perplexed about where her life was heading and thought that, "If I don't do something for myself, this could be what I will be doing for the rest of my life." She then picked up her painting brushes again and began to paint a life for herself.
Lahok Oding is an Amis Aborigine from the Makotaay (Harbor) Village in Hualien County's Fengbin Township. She left her hometown with her parents as a child. Despite living in the city for many years, she frequently remembers the village, sewing traditional Amis clothing together with her grandmother and singing Amis songs with her. At first, she painted to vent her emotions, but now she expresses her feelings through her creativity. Life began to come alive, just like the vibrant colors in her paintings.
Lahok Oding says that many people think that Aboriginal art is either wood carving or traditional totems, but in her paintings there are no traditional totems to be seen. Village culture provides the inspiration for her creativity. She transmutes her life experience in the city and the dilemmas and conflicts in relation to her Aboriginal identity into art.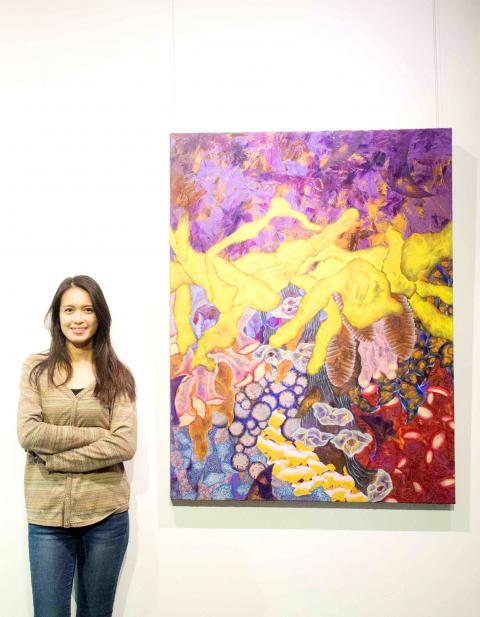 Lahok Oding poses with one of her paintings on Saturday last week in Pingtung County. Lahok Oding上週六在屏東與她的畫作合影。
Photo: Chiu Chih-jou, Liberty Times
照片:自由時報記者邱芷柔攝
She named her exhibition "Misalamaay kami anini" (We are having fun) in the Amis language. The artworks at the exhibition reveal her life journey. She employs the styles of party music and dim light to create a relaxed atmosphere for visitors as they browse through her "emotions," in the hope that she will be able to give the public a different experience of Aboriginal culture and art.
"Misalamaay kami anini" is showcased at the Taiwan Indigenous Peoples Cultural Park in Pingtung County until June 12.
(Liberty Times, translated by Ethan Zhan)
今年三十三歲的阿美族人Lahok Oding,過去曾是領人薪水的上班族,三年前她開始對人生感到迷惑,心想「如果不能為自己做些什麼,那這一輩子可能就這樣定型了。」於是,她重新拿起畫筆,要為自己畫出一個人生。
Lahok Oding是來自花蓮縣豐濱鄉Makotaay(港口部落)的阿美族人,小時候跟著父母親離開家鄉。雖然長年在都市生活,她仍常常想起在部落時奶奶帶著她一起縫製阿美族傳統服飾、一起唱著阿美族歌謠。一開始她只是想要藉著畫畫紓解情緒,現在她透過創作來表達自己的感受,生活也像她畫布上的色彩一樣,繽紛起來。
Lahok Oding說,很多人以為原住民的藝術作品不是木雕,就是傳統圖騰,但她的畫作中看不到傳統圖騰。部落的文化是她創作的靈感。她把自己在都市的生活經驗與族群身份認同的矛盾、衝突轉化成創作。
她用阿美族語為自己的展覽命名,叫做「Misalamaay kami anini」(我們正在玩耍)。從展覽的作品中可以看見她的生命歷程。她也特別選用「派對音樂及昏暗光線」風格,讓參觀畫展的民眾,用輕鬆自在的心情, 瀏覽她的「感受」,希望讓大眾對原住民文化創作有不一樣的體驗。
「Misalamaay kami anini」畫作展,於屏東縣台灣原住民族文化園區展出至六月十二日為止。
〔自由時報報導〕
Publication Notes
TODAY'S WORDS
今日單字
1. perplexed adj.
感到迷惑 (gan3 dao4 mi2 huo4)
例: William is often perplexed about the fluctuations of his waistline.
(威廉常為自己善變的腰圍感到迷惑。)
2. name v.
命名 (ming4 ming2)
例: They named the band after their favorite song.
(他們以自己最喜歡的一首歌的歌名命名新的樂團。)
3. showcase v.
展出;展示 (zhan3 chu1; zhan3 shi4)
例: While some people like to showcase their wealth, Jack doesn't.
(有些人喜歡展示自己的財富,傑克卻不喜歡。)
Comments will be moderated. Keep comments relevant to the article. Remarks containing abusive and obscene language, personal attacks of any kind or promotion will be removed and the user banned. Final decision will be at the discretion of the Taipei Times.