They want you to forget that this is a hospital Hello Kitty主題病房
The nation's first Hello Kitty theme ward has opened. With the aim of easing young patients' fear during hospitalization, Taiwan Adventist Hospital made a special effort to design Hello Kitty and My Melody-themed wards. Not only did young patients say that they did not want to go home, but the medical faculty also found them irresistible and raced to have their pictures with them at the inauguration on March 31.
Hospital president Huang Hui-ting says that a children's ward can make young patients light-hearted by assuaging their fear, which makes treatment easier and reduces the pressure on parents and medical staff. These are the reasons for setting up the cartoon-themed wards.
Huang says that the reason for choosing Hello Kitty is that she can lighten up a whole room without opening saying anything. Men, women, children and elders all love her, and which was why the hospital negotiated cooperation with Sanrio, the company that designed Hello Kitty.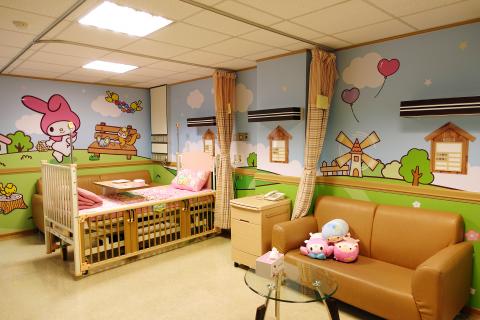 Taiwan Adventist Hospital's My Melody theme ward is pictured on March 31 in Taipei. 台北台安醫院的美樂蒂主題病房,攝於三月三十一日。
Photo: Wu Hsin-tien, Liberty Times
照片:自由時報記者吳欣恬攝
Hello Kitty, My Melody and Little Twin Stars can be seen everywhere in the two theme wards, including in paintings on the wall and on sheets, pillow cases, throw pillows, tissue box covers, tableware and surgical masks. Children are allowed to take away disposables, such as masks and notebooks, but not any other items, which also are not for sale at present.
A night at the theme wards cost the patient NT$8,800. The theme wards became available since April 1.
In addition to the two theme wards, the public space of the pediatrics ward on the hospital's sixth floor is also replete with Hello Kitty's friends, including My Melody, Little Twin Stars, Cinnamoroll, Pomu Pomu Purin, Bad Badtz-maru and Keroppi. They are there to encourage young patients to step out of their wards for a breath of fresh air.
Lee Meng, 6.5 years old, was admitted to the pediatric ward for being unable to breathe properly on the night of March 29. She felt that the Hello Kitty-themed ward was more adorable than the regular wards, and that it was a joy to be there. However, she also said that if she were admitted to it, she might not want to go home.
(Liberty Times, translated by Ethan Zhan)
國內第一間 Hello Kitty 主題病房來了!台安醫院為了減少病童住院治療的恐懼,特別設計Hello Kitty和美樂蒂的主題病房,不但病童直呼不想回家,連醫護人員也不敵Hello Kitty的魅力,三月三十一日開幕時爭相合影。
台安醫院院長黃暉庭表示,一間讓病童開心快樂的兒童病房可以透過減少病童恐懼,讓治療過程更順利,減輕父母和醫護人員的負擔,因此設計卡通人物主題病房。
黃暉庭說,會選擇 Hello Kitty,是因為她不用開口就能帶來開心歡樂的氛圍,不分男女老幼都很喜歡,因此院方進一步和 Hello Kitty 的設計公司三麗鷗洽談合作。
兩間主題病房從牆壁彩繪、被單、枕套、抱枕、面紙盒、餐具到口罩等擺設全都是 Hello Kitty 、美樂蒂和雙子星的身影。院方說,一次性使用的東西,如口罩、筆記本等,入住的病童可以帶走,但其他的擺設就不行,目前也沒有販售。
主題病房一晚需自付八千八百元,四月一日開始提供病童入住。
除了兩間主題病房,台安醫院六樓兒科病房的公共空間也都有Hello Kitty的好朋友,包括美樂蒂、雙子星、大耳狗、布丁狗、酷企鵝以及大眼蛙的身影,鼓勵病童走出病房透透氣。
六歲半的李蒙,三月二十九日晚間因喘不過氣入住兒科病房,她覺得Hello Kitty病房比普通病房可愛,在裡面就覺得好開心,但也說自己如果入住可能會不想回家。
〈自由時報記者吳欣恬〉
Publication Notes
TODAY'S WORDS
今日單字
1. assuage v.
減少 (jian2 shao3)
例: She extends her working hours to assuage the guilt of fooling around all day.
(她藉由延長工時的方式來減少打混一整天的罪惡感。)
2. throw pillow n.
抱枕 (bao4 zhen3)
例: Jack, a couch potato, cannot live without throw pillows.
(宅男傑克沒有抱枕就活不下去。)
3. for a breath of fresh air phr.
透透氣 (tou4 tou4 qi4)
例: If you feel tired after working long hours, you should go outside for a breath of fresh air.
(如果你工作太久感覺疲倦的話,應該去外面透透氣。)
Comments will be moderated. Keep comments relevant to the article. Remarks containing abusive and obscene language, personal attacks of any kind or promotion will be removed and the user banned. Final decision will be at the discretion of the Taipei Times.