A language in need Is a language indeed 書到用時方恨少
Julie is an attractive, confident woman at the peak of her career. Originally from London, the political and financial center of the UK, she now works in an information management company in Taipei.
One day she shared a story with Eason, another brilliant mind in the company, on the importance of languages.
"I used to attend protests and make speeches in London's Trafalgar Square," Julie said. "But one night, as I headed home after delivering a rather mediocre speech on taxation policy, I saw a man who appeared to be arguing with a police officer.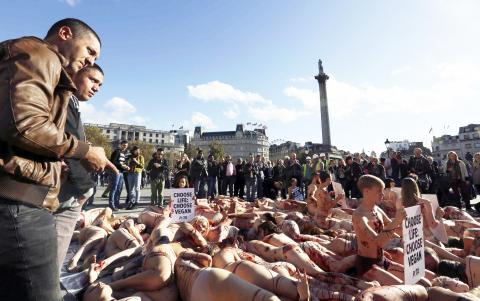 Supporters of People for the Ethical Treatment of Animals (PETA) lie in London's Trafalgar Square to raise awareness on World Vegan Day on November 1, 2014. 善待動物組織的支持者二○一四年十一月一日一起躺在倫敦的特拉法加廣場,向大眾推廣世界純素食日。
Photo: REUTERS/Paul Hackett
照片:路透社Paul Hackett攝
"So I approached them and tried to find out what was going on. It turned out that they were not arguing, as the man obviously could not speak a word of English. The officer, who spoke only English, was at a loss.
"Fortunately, I am multilingual, and I felt compelled to offer some help, so I began speaking in French. However, it was as if I had spoken Greek to him, which I absolutely could not have done even if I had wanted to. So I tried German instead, and failed miserably. Then I decided that maybe Spanish could be the solution. Sadly, it wasn't, and neither was Italian. Everybody was frustrated.
"Before I gave up, it occurred to me that maybe I should try the language that I was least capable of speaking — Russian. After I uttered a couple of Russian words, without even finishing a sentence, the man responded with joyful tears in his eyes. It turned out that he was Polish, traveling in London that night with some Polish friends, who were going to take him to see another Polish friend, but somehow they got separated in Trafalgar Square. So he tried to get the police to help him, which the policeman failed to do, and then I showed up.
"Although the Polish man's Russian was also far from fluent, we understood each other well enough for me to help him find his companions."
"Fantastic story, Julie," said Eason. "But please, one more time. And this time in Russian."
"......."
(Written by Ethan Zhan)
朱莉是一個美麗、自信的女人,事業如日中天。原本來自英國的政經中心倫敦,現在她在台北的一間資訊管理公司工作。
某日,她與公司裡一位傑出的同事伊森閒聊,談語言的重要。
「我以前會在倫敦的特拉法加廣場參加示威抗議、發表演說。」朱莉說。「但有一天晚上,我發表完一篇講得差強人意關於稅政的演說後,正要回家,我看到一個男的似乎正在與警察爭執。
「我就走上前去,想看看到底發生了什麼事。原來,他們不是在爭執,這個男的根本一句英文都不會講。而這個只會說英語的警察,窘在那裡不知所措。
「好在,我會說多國語言,我感到一股衝動想要幫忙,所以就開始跟他說法語。不過他的樣子就好像我對他說了一串希臘文一樣。但希臘文就算我想說,我也根本不會說。於是,我就嘗試德文,但結果是淒淒慘慘戚戚。然後我就想,或許西班牙語就是答案。不幸的是,西班牙語也不行,連義大利文也沒用。每個人都感到好挫折。
「就在我打算放棄的時候,我突然想到或許我可以試試我最蹩腳的語言——俄文。而就在說了一兩句俄文後,根本都還沒說完完整的句子,那個人就高興得喜極而泣了。原來,他是波蘭人,那天晚上跟一群波蘭朋友在倫敦遊玩,那群波蘭朋友打算帶他去找另一名波蘭友人,可是他們莫名其妙地在特拉法加廣場失散了。他試著請警察幫忙,但警察幫不上忙,然後我就出現了。
「雖然這個波蘭人的俄文跟我一樣,離流利還很遙遠,但我們已經可以溝通,然後幫他找到他的同伴。」
「好棒的故事啊,朱莉!」伊森說。「你可以再把那個故事講一遍嗎?不過這次用俄文?」
朱莉:「……」
(英文原文:台北時報詹豐造。英翻中:台北時報詹豐造)
Publication Notes
TODAY'S WORDS
今日單字
1. mediocre adj.
差強人意(cha1 qiang2 ren2 yi4)
例: What do you mean that I am a mediocre lover?
(什麼叫我是個差強人意的情人?)
2. at a loss phr.
不知所措(bu4 zhi1 suo3 cuo4)
例: After they had a terrible fight, he was completely at a loss.
(大吵一架之後,他整個不知所措。)
3. companion n.
同伴;夥伴 (tong2 ban4; huo3 ban4)
例: "Do you think that it's our destiny to be each other's best companion?"
(你認為我們成為彼此的最佳夥伴是命中註定嗎?」
Comments will be moderated. Keep comments relevant to the article. Remarks containing abusive and obscene language, personal attacks of any kind or promotion will be removed and the user banned. Final decision will be at the discretion of the Taipei Times.