Liu's lovely lemons 天然法種檸檬 劉春強務農抗癌
Liu Chun-chiang, a 66-year-old lemon farmer from Pingtung County's Jhutian Township, was diagnosed with lymphoma 18 years ago. At the time Liu was working at the Taiwan Motor Transportation Company, but quit his job, planning to return to his hometown and work as a farmer to build up his physical fitness. However, on his return he saw that all the agricultural land in his hometown had been turned over to growing betel nuts. Furthermore, Liu discovered that the soil had suffered from long-term use of weedkiller.
Liu insists on not spraying weedkiller, instead using natural methods to prevent and control diseases and pests. Liu uses his own concoction of enzymes as fertilizer, and having achieved certification that his lemons are free from pesticide residues, has attracted a following of customers who come knocking on his door. Liu has for many years maintained the price of his lemons at NT$50 for one catty (0.5kg).
"My lemons even drink milk!" says Liu. He uses the scent of neem oil and cinnamon as a natural way to repel insects and makes a natural liquid fertilizer from milk powder, fish bone meal, soy bean flour and other ingredients.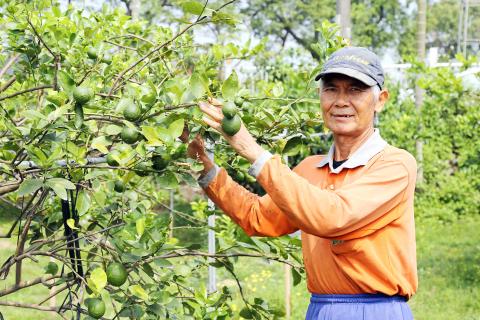 Liu Chun-chiang shows off his lemons on his farm in Pingtung County's Jhutian Township on Feb. 27. 劉春強於二月二十七日於其屏東縣竹田鄉的農地展示自種的檸檬。
Photo: Chiu Chih-jou, Liberty Times
照片:自由時報記者邱芷柔
Liu encourages other smallholder farmers to look after their farmland, reform the image of agriculture and insist on quality, in order to build up a competitive advantage within the marketplace.
(Liberty Times, translated by Edward Jones)
屏東縣竹田鄉檸檬農夫劉春強,現年六十六歲,十八年前罹患淋巴癌。當時在台汽上班的他,為了療養身體而辭掉工作,想要返鄉務農健身,卻看見家鄉農地滿是檳榔,且土壤長期遭除草劑傷害。
他堅持不噴除草劑,以天然方式防治病蟲害,自行調配酵素當肥料,並通過無農藥殘留檢驗,吸引消費者主動找上門,他的檸檬常年價格維持一斤五十元。
「我的檸檬還喝牛奶呢!」劉春強以苦楝油、肉桂散發的氣味等天然方式驅蟲,並將奶粉、魚骨粉、黃豆粉等調配成液體肥料,讓檸檬樹吸收。
劉春強鼓勵小農友善農地,改變農業形象,堅持品質,累積市場競爭力。
(自由時報記者邱芷柔)
Publication Notes
TODAY'S WORDS
今日單字
1. long-term adj. 長期 (chang2 qi2)
例: Doctors agree that long-term exposure to asbestos is harmful to one's health.
(醫生認為長期暴露於石棉環境中有害健康。)
2. attract v. 吸引 (xi1 yin3)
例: The ice cream I was eating attracted a large number of wasps.
(我吃的冰淇淋吸引了大批的黃蜂。)
3. encourage v. 鼓勵 (gu3 li4)
例: My teacher encouraged me to consider doing some volunteer work during the summer vacation.
(老師鼓勵我考慮暑假去當志工。)
Comments will be moderated. Keep comments relevant to the article. Remarks containing abusive and obscene language, personal attacks of any kind or promotion will be removed and the user banned. Final decision will be at the discretion of the Taipei Times.