Techno-dancing Third Princes help fight crime in Tainan 防竊(扒)、防搶、防詐騙 三太子熱力宣導
Tainan City Government Police Bureau, while promoting its Lunar New Year safety message, "Prevent theft, robbery and fraud," invited a group of "Techno-Dancing Third Princes" to act as the campaign's ambassadors. Sure enough, it was an eye-catching, lively event.
The extended campaign event was held at the Sinying Sports Center and informed members of the public about crime prevention and response strategies. Police bureau chief Chen Tzu-ching, speaking during the opening ceremony, stressed that the police would increase crime prevention and traffic control measures and work hard to serve the public during the Lunar New Year period.
There were lively songs and dances from the Techno-Dancing Third Princes, interspersed with information pieces on crime prevention. Red envelopes made especially for the event and with campaign slogans printed on them were given out, and attendees fell over themselves to get hold of one. The atmosphere within the venue was electric. Furthermore, there was a special crime prevention zone where a quiz with prizes was held to instill the principles of crime prevention into the public.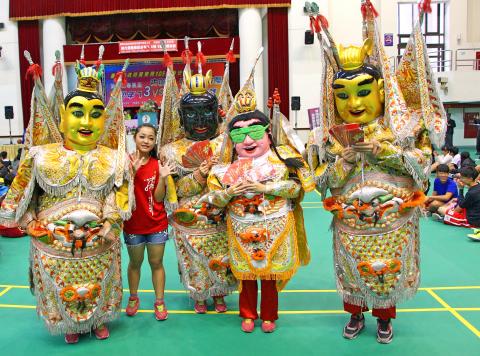 A group of "Techno-Dancing Third Princes," pose for a photograph outside Sinying Sports Center in Tainan on Sunday last week. 上週日電音三太子在台南新營體育館外合照。
Photo: Wang Han-ping, Liberty Times
照片:自由時報記者王涵平
(LIBERTY TIMES, TRANSLATED BY EDWARD JONES)
南市警局春安宣導「防竊(扒)、防搶、防詐騙」,請來電音三太子擔任宣導大使,果然吸睛,熱鬧滾滾!
宣導活動在新營體育館擴大辦理,提供民眾預防犯罪新知及防制因應之道。警察局長陳子敬主持開幕儀式,強調春節期間加強犯罪預防、交通疏導及務實辦理為民服務工作。
電音三太子現場勁歌熱舞,穿插犯罪預防宣導橋段,發放特別訂製印有宣導標語的紅包袋,民眾爭相索取,現場氣氛high翻天。犯罪預防宣導專區透過有獎徵答等方式,建立民眾犯罪預防觀念。
(自由時報記者王涵平)
Comments will be moderated. Keep comments relevant to the article. Remarks containing abusive and obscene language, personal attacks of any kind or promotion will be removed and the user banned. Final decision will be at the discretion of the Taipei Times.