Subway limousine 選前之夜大塞車 捷運就是禮車
The night before the election was a rainy night in Kaohsiung and traffic was heavily congested. After seeing the traffic jams caused by the rain, newlyweds Huang Sheng-chung and Kuo Ting-yu, who after years of being in a love relationship decided to tie the knot on Jan 15, had the sudden idea to use the Kaohsiung MRT as their wedding limousine.
Kuo, the bride, says they had to arrive at a hotel in Yancheng District to rehearse the wedding by 5pm, but they figured that the limousine would probably not get them there in time. They suddenly remebered Kaohsiung City Councilor Chen Hsin-yu's promoting the use of the KMRT as a wedding limousine to save energy and reduce carbon emission, and thought it might be fun to have a different wedding memory.
The couple knew that there are of restrictions on the use of the KMRT, so they called and asked if it was permissible to wear a wedding gown on the train, to which the KMRT responded that as long as it is not for commercial purposes, it is allowed. Immediately, the couple gave up on the Mercedes Benz S400 and took the KMRT from Daliao station to Yanchengpu station. It took them around 30 minutes to make it in time to their own wedding.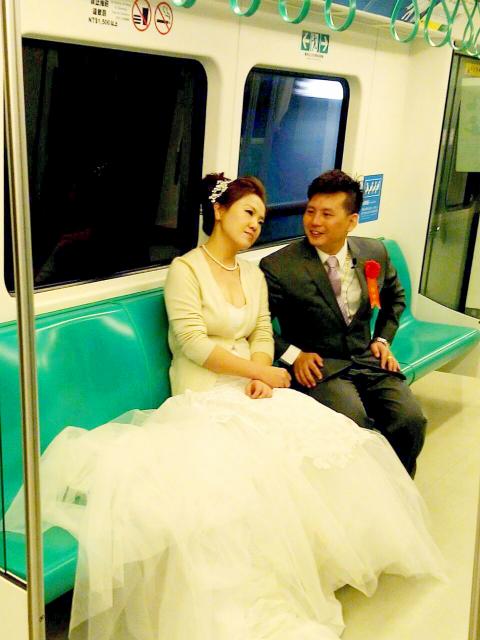 Huang Sheng-chung, right, and his bride Kuo Ting-yu ride the KMRT to their own wedding on the rainy evening of Jan 15 in Kaohsiung prior to the election. 一月十五日,選前之夜的高雄下著雨,新人黃聖鐘(右)、郭亭佑以捷運為禮車共赴他們的婚禮。
Photo: Copied by Hung Chen-hung, Taipei Times
照片:自由時報洪臣宏翻攝
Huang and Kuo say that they would often drink a little bit of wine on their dates, and therefore used to ride the KMRT. Their impression of the train was that it was cozy and punctual. Riding it dressed in their wedding clothes they were greeted with well-wishes from strangers throughout the ride, giving them an unforgettable experience.
The KMRT has organized wedding trains in the past to encourage the public to use public transport. Shih Yao-cheng, head of Department of Public Affairs of Kaohsiung Rapid Transit Corp, says that newlyweds are passengers just like anyone else, and that they are welcome to travel on the KMRT. However, because wedding dresses are very long, for the sake of safety, newlyweds can notify the KMRT in advance, so that it can be arranged for someone to assist them on the train.
(Liberty Times, translated by Ethan Zhan)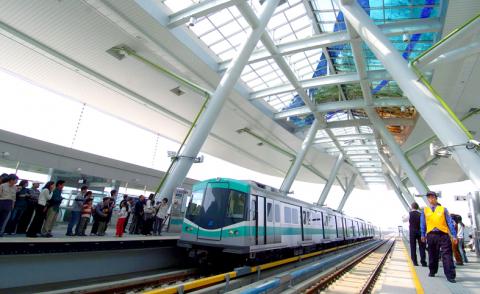 Passengers await the train on the platform on March 9, 2008, in a KMRT station in Kaohsiung. 乘客在高雄捷運的月台上等候列車進站。攝於二零零八年三月九日。
Photo: Chang Chung-i, Taipei Times<照片:自由時報記者張忠義攝>
選前之夜陰雨綿綿,高雄地區大塞車。新人黃聖鐘、郭亭佑歷經多年愛情長跑,決定在一月十五日完成終身大事,但看到高雄下雨,主要道路塞車嚴重,靈機一動,改以高雄捷運當「禮車」。
新娘郭亭佑說,他們五點必須趕到鹽埕區的飯店彩排婚禮,心想搭乘禮車一定來不及,猛然想起曾看過高市議員陳信瑜為宣導節能減碳,以捷運當禮車的新聞,想想「很好玩」,想為自己的婚禮留下不同的回憶。
這對新人知道搭乘捷運有限制,特地致電高捷詢問是否可以穿著婚紗搭乘捷運,獲得「只要不是商業行為就可以」的回應,立即放棄賓士S400,從大寮站搭到鹽埕埔站,花了約三十分鐘,趕上自己的婚禮。
黃、郭這對新人說,兩人約會時常會小酌,因此選擇捷運當交通工具,印象上舒適、不誤點。而穿著婚紗搭乘一路上也獲得陌生人祝福,是難得的體驗。
高雄捷運曾辦過「結婚列車」,鼓勵搭乘大眾交通工具。高捷公司公共事務處處長石耀誠說,新人也是一般乘客,高捷公司歡迎搭乘,不過因為婚紗裙擺過長,為安全起見,可以事先通知捷運公司,將派人引導搭乘。
〔自由時報記者洪臣宏/高雄報導〕
Comments will be moderated. Keep comments relevant to the article. Remarks containing abusive and obscene language, personal attacks of any kind or promotion will be removed and the user banned. Final decision will be at the discretion of the Taipei Times.