Mountain rescue ends in tragedy 國軍直升機訓練 嘉明湖尋獲失聯登山客遺體
Liu Yi-tsan, a 31-year-old man from Taichung, set off on his own from the foot of Taitung's Siangyang Mountain on New Year's Day without applying for a permit. Liu had planned to descend the mountain after three days, however, having lost contact, Liu's family reported him as missing.
At 2:21pm on Sunday last week, the Taitung County Fire Department received a call for a mountain search and rescue and immediately mobilized four firefighters, a substitute military serviceman and several mountaineers to conduct a search operation but the team returned empty-handed. The following day, a helicopter and aircrew were drafted in to reinforce the rescue effort. The ground search and rescue team was airlifted to the Sanchaleng camping site, while the aircrew carried out an aerial search along the Sinkangshan route, but all their efforts were in vain.
The Taitung County Fire Department says firefighters together with the aircrew searched for successive days to no avail, but at 10:29 in the morning on Thursday last week sad news came when a military helicopter conducting exercises near the Jiaming Lake mountain area came across a dead body. The helicopter carried the body, attached by rope, to the Shueishang Airforce Base in Chiayi County, after which it was taken to the Chiayi County Veterans Hospital. Liu's identity card was found on the body and the features of the body's clothing also matched Liu's.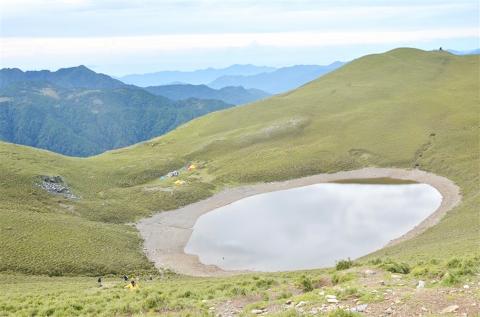 Jiaming Lake in Taitung County is pictured on March 30 last year. 位於台東縣的嘉明湖,在去年三月三十日拍攝。
Photo: Wang Hsiu-ting, Liberty Times
照片:自由時報記者王秀亭
(Liberty Times, translated by Edward Jones)
台中三十一歲男子劉易瓚元旦未經申請,獨自從台東向陽山入口入山,原訂三日下山卻失聯,家屬報案協尋。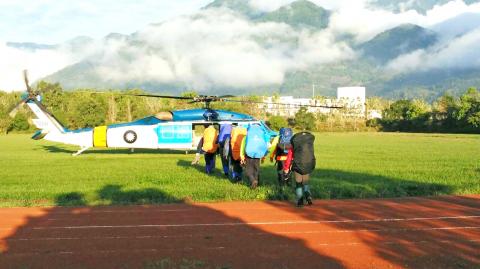 An aircrew and rescue team board a helicopter in Taitung County on Monday last week to search for a missing mountaineer. 上週一在台東縣,空勤及搜救人員登上直升機搜尋失聯的登山客。
Photo: Chen Hsien-yi, Liberty Times
照片:自由時報記者陳賢義
台東縣消防局上週日下午二時二十一分接獲山難協尋通報,立即動員四名消防人員、一名替代役男和多位山青上山搜尋,無功而返,隔日轉報空勤直升機增援,載送地面搜救部隊至三叉稜下營地,並沿新康山路線實施空偵,均徒勞無功。
台東縣消防局表示,消防及空勤單位連日搜尋未果,上週四上午十時二十九分傳來惡耗,國軍在嘉明湖附近山域實施直升機訓練時,發現一具遺體,吊掛降落在嘉義水上空軍基地,隨後送往嘉義縣榮民醫院,遺體有劉男的身分證件,衣著特徵也與劉男相同。
(自由時報記者陳賢義)
Publication Notes
TODAY'S WORDS
今日單字
1. lose contact v. phr.
失聯 (shi1 lian2)
例: These days it's easy to lose contact with friends if you're not on social media.
現在若不用社交媒體,容易與朋友失聯。
2. mobilize v.
動員 (dong4 yuan2)
例: The army quickly mobilized over 500 troops to assist with the disaster relief effort.
軍隊迅速動員五百多軍人協助救災工作。
3. return empty-handed phr.
無功而返 (wu2 gong1 er2 fan3)
例: After spending two hours trying to find his girlfriend a present, Tom returned empty-handed.
花了兩個小時時間尋找要送女朋友的禮物以後,湯姆無功而返。
Comments will be moderated. Keep comments relevant to the article. Remarks containing abusive and obscene language, personal attacks of any kind or promotion will be removed and the user banned. Final decision will be at the discretion of the Taipei Times.