What's your favorite city in Taiwan? 最想在哪個都市工作?
An article posted on the PTT online bulletin board has unexpectedly sparked a heated debate among netizens. A netizen posed the question, suppose there is a company that has branches all over Taiwan, all else being equal, which city would people prefer? Most people said Kaohsiung, while Taipei, the nation's capital, only ranked fourth.
Although most companies are concentrated in the big cities, the netizen hypothesized that this company has branches all over Taiwan, offers a monthly salary of NT$42,000 and requires occasional overtime work, with the same kind of work and the same time commute, which city would people prefer? It turns out Kaohsiung is the favorite, followed by Taichung, Tainan, while the fourth place goes to the nation's capital, Taipei.
Netizens who favored Kaohsiung said, "Except air pollution and hot weather, Kaohsiung is perfect." "Kaohsiung's commodity prices and convenience are nice." "Kaohsiung's crime rate is no higher than that of Taipei." "Definitely Kaohsiung. Even its people are super nice!" Supporters of Taichung and Tainan say, "I will certainly go for the city with the lowest commodity prices, such as Tainan, Kaohsiung and Taichung, but absolutely not Taipei." There were, however, relatively fewer fans of Taipei. One netizen even joked, "Can I choose the Diaoyutai Islands? It is so close to Japan."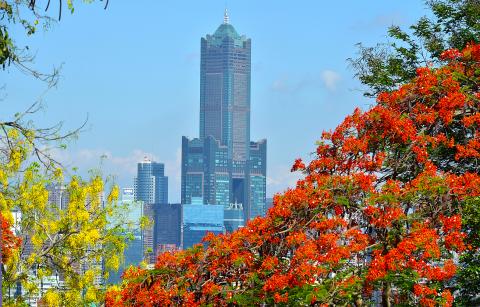 A Royal Poinciana blossoms on May 18 with Kaohsiung's 85-story Tuntex Sky Tower in the background. 五月十八日盛開的鳳凰花,其後即是高雄八五大樓。
Photo: Chang Chung-i, Taipei Times
照片:自由時報記者張忠義攝
(Liberty Times, translated by Ethan Zhan)
批踢踢的一篇貼文意外引起廣大鄉民論戰。網友假設一間企業,在全台各地都有營業處,其他條件全都相同,大家會選哪一個縣市?呼聲最高的是高雄,而作為台灣首都的台北卻只排名第四。
雖然大部分企業都集中在大都市,但網友假設此企業在全台各地都有營業處,月薪給你四萬二,偶爾要加班,工作內容不變,通勤時間不變,那會選擇在哪一個城市工作。結果高雄呼聲最高,其次為台中、台南,作為首都的台北僅排第四。
支持高雄的網友表示「高雄除了空汙跟太熱,其他完美。」「物價和便利度很舒適」、「治安不比台北差」「絕對是高雄,高雄連人都超棒的啊!」支持台中與台南的則指出,「那當然是選物價指數最低的,台南高雄台中,絕對不要北部。」反倒支持台北的網友相對較少。更有鄉民搞笑表示:「可以選釣魚台嗎?離日本很近。」
(自由時報綜合報導)
Publication Notes
TODAY'S WORDS
今日單字
1. all else being equal phr.
其他條件全都相同
(qi2 ta1 tiao2 jian4 quan2 dou1 xiang1 tong2)
例: All else being equal, she prefers a hunk to a skinny guy. (其他條件全都相同的情況下,她要壯漢而不要瘦子。)
2. rank v.
排名(pai2 ming2)
例: Bob's writing ranks no.1 among Taiwanese reporters.
(鮑勃的寫作在台灣記者中排名第一。)
3. commute n.
通勤(tong1 qin2)
例: Unlike most people, Jack does not resent a long commute to work.
(傑克與大多數人不同,他不厭惡長途通勤。)
Comments will be moderated. Keep comments relevant to the article. Remarks containing abusive and obscene language, personal attacks of any kind or promotion will be removed and the user banned. Final decision will be at the discretion of the Taipei Times.