Police reequipped with extendable batons 伸縮式警棍 重回制式裝備
A couple of decades ago nearly every police officer carried an extendable baton, commonly called an "extendo," when performing his or her duties. Later, after police forces stopped supplying them, they became "optional equipment" that police officers have to purchase for themselves. Now, however, the National Police Agency has decided that extendable batons are convenient to use and police officers have a real need for them, so it has issued an order to police bureaus around Taiwan telling them that the batons are an essential item of equipment that each bureau must purchase so that every officer can have one.
The Chiayi County Police Bureau has over 1,000 officers who go out on front-line duty. With support from the county government, the bureau has allocated a budget for the purpose and will invite tenders for purchasing 1,300 improved extendable batons at a price of about NT$300 apiece. Each baton weighs 530 grams and can be instantly extended with a flick of one wrist. The three-section batons are 65 centimeters long, but when retracted they are only 25 centimeters in length. They are made of tempered steel tubing and can be conveniently carried in a baton pouch attached to an officer's duty belt.
An instructor in the county police bureau's training section says that the advantage of extendable batons is their convenience. When people get disorderly, extendable batons make it easy for police officers to restrain them. They are used in the same way as ordinary police batons, and officers receive regular training in their use. Extendable batons are designated as a police weapon, so anyone who wants to make them or own one must get permission from a police department. Security guards also have to obtain a license to use them. Carrying such a baton without a permit is an offense under the Social Order Maintenance Act and punishable by a prison term of up to three days or a fine of up to NT$18,000.(Liberty Times, translated by Julian Clegg)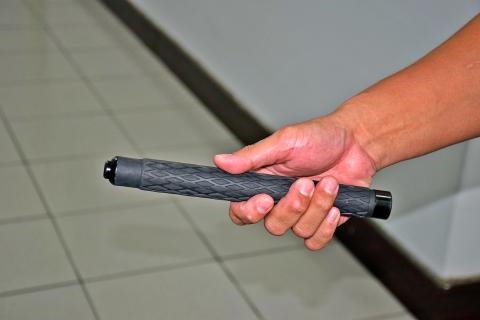 A man holds a retracted extendable baton in Chiayi County on Dec. 7. 一名男子手持著一支收縮的伸縮式警棍。攝於十二月七日,彰化縣。
Photo: Wu Shih-tsung, liberty Times
照片:自由時報記者吳世聰
俗稱「甩棍」的伸縮式警棍,二十餘年前執勤員警幾乎都隨身配用,警界未再配發後,淪為員警自購的「選用配備」。警政署認為甩棍使用便利,員警也有實際需求,函文各警局務必添購達「一人一裝備」的必備警械。
嘉義縣警察局第一線執勤人員一千多人,在縣府支持下,動用預算將招標購入一千三百支改良型伸縮式警棍,單價約三百元,每支重量五百三十公克,單手瞬間甩出,三段全長六十五公分,回復收存只有二十五公分長,材質是熱處理鋼管,方便配用警棍袋配掛於執勤腰帶上。
縣警局訓練科教官表示,甩棍最好用之處在於便利,民眾有脫序行為時方便制伏,用法跟一般警棍一樣,平時就有訓練。甩棍屬警械,製造及持有要經警察機關單位許可,保全人員使用也要取得執照。如未經許可卻持有,違反社會秩序維護法,可處三日以下拘留或一萬八千元以下罰緩。(自由時報記者吳世聰)
Comments will be moderated. Keep comments relevant to the article. Remarks containing abusive and obscene language, personal attacks of any kind or promotion will be removed and the user banned. Final decision will be at the discretion of the Taipei Times.