Kids challenge themselves by cycling over 60 kilometers 孩子挑戰自我 騎腳踏車六十多公里
Nov. 20 was International Children's Rights Day. In view of frequent reports about cases of child abuse, World Vision Taiwan has helped students transform into children's rights advocacy ambassadors. They rode bikes from Yuanchang Township to Gukeng Township in Yunlin County and along the way advocated for four main children's rights, including the right to life, development, participation and protection.
Taiwan World Vision supports about 2,000 students in Yunlin County. Because the parents are too busy working to take care of their own kids, after the children come home from school, they either roam the streets or stay at home and indulge themselves in television, computers and video games. Noticing this, Lin Kuan-liang, a social worker at the organization's Yunbin branch and a cycling enthusiast, has used his time outside of work to take children cycling, nurturing the habit of exercising, training in teamwork and cooperation and challenging themselves.
Lin says the bike team consists of six people at the moment. The bicycles are those the children ride to school every day. The only equipment is a safety helmet, and one team member's bike is a second-hand one given away by someone. The gears are broken and the handlebars and frame are rusty, but the kid still rides it happily.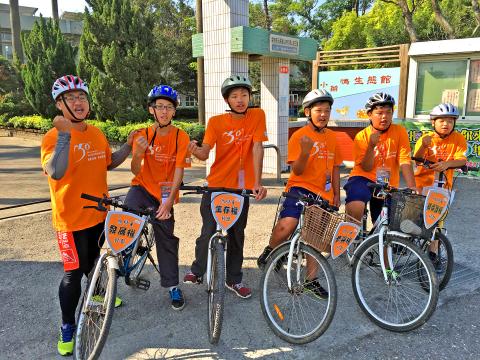 Six bike team members pause for a photo with their bicycles in Yunlin County on Sunday. 五位單車隊成員週日在雲林縣暫時休息,與自行車合影留念。
Photo: Huang Shu-li, Liberty Times
照片:自由時報記者黃淑莉
Early one the morning when the sun was shining, the team members set out from Yuanchang Shannei Elementary School and passed through Tuku Township and Dounan Township before reaching Gukeng. The round trip was over 60 kilometers. Although sweating and with aching bottoms and feet, not one child complained of tiredness and along the way many people cheered them on.
(Liberty Times, translated by Clare Lear)
上週五是「世界兒童人權日」,有鑑虐童案件頻傳,台灣世界展望會扶助學生變身倡導孩童人權大使。他們從雲林元長騎單車到古坑,沿途宣導兒童四大權利,包括生存權、發展權、參與權及受保護權。
台灣世展會扶助雲林學生約兩千人,有鑑孩子因父母忙於工作無暇照顧,放學後返家在街頭閒逛或宅在家沈迷電視、電腦和電動玩具,愛騎單車的雲濱中心社工林冠良利用工作之餘帶著孩子騎單車,培養運動習慣、訓練團隊合作及挑戰自我。
林表示,單車隊現有成員六個人,腳踏車是孩子平日上學騎的車子,安全帽是唯一的裝備,其中一位成員的腳踏車是別人淘汰的二手車,變速器壞掉,手把及車身都生鏽,但孩子還是騎得很開心。
一早艷陽高照。車隊成員從元長山內國小出發,經過土庫、斗南到古坑,來回約六十多公里,雖然汗流浹背、屁股及腳酸痛,但沒人喊累,沿途也有許多民眾為他們加油打氣。
(自由時報記者黃淑莉)
Publication Notes
TODAY'S WORDS
今日單字
1. right n.
權利 (quan2 li4)
例: Animals have rights too.
(動物也是有權利的。)
2. equipment n.
裝備 (zhuang1 bei4)
例: Their equipment was expensive.
(他們的裝備很貴。)
3. roam v.
閒逛 (xian2 guang4)
例: In the school holidays kids roam the street.
(學校放假時很多小朋友在街上閒逛。)
Comments will be moderated. Keep comments relevant to the article. Remarks containing abusive and obscene language, personal attacks of any kind or promotion will be removed and the user banned. Final decision will be at the discretion of the Taipei Times.