A gaggle of rare migratory bean geese flock to Penghu for rest and relaxation 稀有冬候鳥 寒林豆雁澎湖現蹤
Winter is upon us and a flock of winter migratory birds has again stopped over on Penghu Island. On Nov. 1, six large ducks appeared at the Penghu Chenggong Reservoir and flocked on the water for a leisurely swim and to hunt for food. A bird watcher, surnamed Lee, who discovered the birds, informed the Wild Bird Society of Penghu, who verified the birds as rare migratory "bean geese." Because bean geese are naturally wary, the society has called upon the public not to disturb their ecological environment and to admire the birds from a distance.
According to the literature, bean geese are classified as a rare winter migratory bird. The male and female are identical in appearance, and they are naturally wary and predisposed to living in wide-open spaces. They remain alert with their necks outstretched while feeding on grass and seedlings and emit a dull honking sound.
Although bean geese are a type of large duck, they differ from normal geese in that they are innately wary and become agitated easily. If their resting environment is not large enough, they will not dare to linger; therefore they are rarely seen in Penghu and Taiwan in general. It is thought that the birds have appeared in Penghu Chenggong Reservoir this time due to the high level of rainfall this year. With the reservoir's water level full-to-brimming, the surface area of the lake is comparatively large, which also makes it easy for the birds to hunt for food. This is why the bean geese chose the reservoir as their temporary stopover point, which has provided a feast for the eyes of bird watchers.
(Liberty Times, Translated by Edward Jones)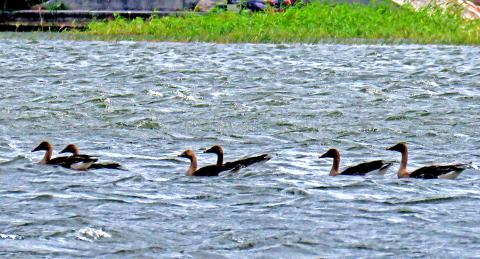 A gaggle of rare bean geese stop over at Chenggong Reservoir on Penghu Island on Nov. 1 for a relaxing swim and to hunt for food. 澎湖成功水庫十一月一日來了一批過境稀有的「寒林豆雁」,在水庫中嬉游覓食。
Photo: Courtesy of Chou Lee-chao
照片:周麗炤提供
時序入冬。又有大批冬候鳥過境澎湖,十一月一日澎湖成功水庫出現六隻大鴨,成群結隊在水面上悠游覓食,發現的李姓鳥友通報澎湖縣野鳥學會,證實為稀有過境鳥「寒林豆雁」。由於其生性機警,鳥會呼籲勿打擾其生態,遠距欣賞就好。
根據文獻記載,「寒林豆雁」屬稀有冬候鳥,雌雄同型,生性機警,以家族型態生活在開闊陸域環境,連覓食草類、秧苗時都會引頸警戒,還會發出深沉的喇叭聲。
雖然寒林豆雁是大型鴨子,跟一般看到的鵝一樣大,但因為生性機警,易受驚擾,所以如果棲息環境範圍不夠大,不太敢停下來,因此較少出現在台灣和澎湖,此次現身澎湖成功水庫,猜測與今年雨量豐沛,成功水庫儲水滿水位,因此湖面相當廣闊,同時容易覓食,才會選擇在成功水庫做為短暫休息點,讓鳥友們大飽眼福。
(自由時報記者劉禹慶)
Publication Notes
TODAY'S WORDS
今日單字
1. flock v.
成群結隊 (cheng2 qun2 jie2 dui4)
例: Every year a large number of high school graduates flock to the seaside to celebrate.
(每年不少高中畢業生成群結隊地到海邊慶祝。)
2. admire v.
欣賞 (xin1 shang3)
例: I really admire the layout of this garden.
(我很欣賞這個花園的格局。)
3. a feast for the eyes phr.
大飽眼福 (da4 bao3 yan3 fu2)
例: The lead actor's superb performance in the film gave moviegoers a feast for the eyes.
(這部電影男主角優秀的表演讓觀眾大飽眼福。)
Comments will be moderated. Keep comments relevant to the article. Remarks containing abusive and obscene language, personal attacks of any kind or promotion will be removed and the user banned. Final decision will be at the discretion of the Taipei Times.