Youth and elders revive the art of bow-making 傳統弓箭工藝漸失 耆老傳授撇步
The popularity of traditional Aboriginal-style archery has inspired Paiwan people in Tjavualji Village in Taitung County's Taimali Township to revive the art of making bows and arrows by hand. The elders are not keeping their knowledge to themselves; relying on their childhood memories, they have been exchanging ideas with the youth. No step in the process is taken lightly — from choosing the raw wood through shaping it, drying the bow, treating it with preservatives and stringing it, all the way to the finished product. It is an astonishing reminder of the ancestors' bountiful knowledge.
Picking up an arrow made by young villager Chen Chih-wei, Wang Cheng-yang, one of the elders, points at the arrowhead and tells him that the join cannot be too thick, otherwise it will not be very easy to bind it with string or shoot the arrow. Chen accepts Wang's lesson humbly. Wang says that in the past only hunters made bows and arrows. Traditional bows and arrows were not brightly colored like modern ones, nor did they come in such a variety of shapes, and they were not primarily for competition. They were made of laminated bamboo strips and were relatively short, which made them easy to carry, and their sole purpose was to shoot prey. When Wang was little, his grandfather had two bows. The steel arrowheads were all hand-wrought from steel plates. In ancient times, there were no steel tools available, so the ancestors chipped and ground slates into a triangular shape and bound them onto the shafts to make arrows.
Wang says that in the past he never thought about making traditional bows and arrows. Only this year, when Legislator May Chin was planning to hold a national traditional archery competition, was he inspired to do so. He has done it by relying on his memories and swapping ideas with young people, and then making corrections by referring to other people's methods.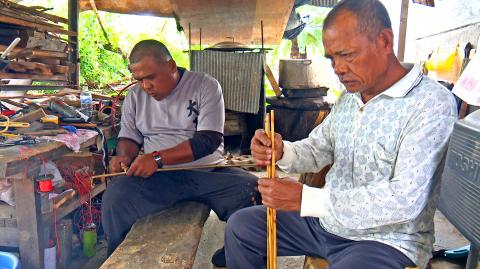 Chen Chih-wei, a young man from Tjavualji Village in Taitung County's Taimali Township, learns traditional bow- and-arrow-making techniques from village elder Wang Cheng-yang on Oct. 23. 台東縣太麻里鄉大王部落青年陳志偉(左)十月二十三日向耆老王成陽學習傳統弓箭製作技術。
Photo: Chen Hsien-i, Liberty Times
照片:自由時報記者陳賢義
Chen says that when he was little he saw a bow hanging in the chief's house, but the adults did not pass on the handicraft knowledge that was left to them by their ancestors, so at first he could only try making bows based on his impressions. Because he did not know how to treat the wood with preservatives, he had a lot of failures in the course of trial and error, but he did not lose heart. When a bow cracked, he made another one and asked the elders for tips on how to heat-treat the wood. Making bows and arrows by hand gives you a feeling of "unity of man and bow," he says, and when you pull the bow to shoot an arrow it feels very smooth and comfortable.
(Liberty Times, translated by Julian Clegg)
原民傳統射箭運動成風尚,啟動台東縣太麻里鄉排灣族大王部落族人重拾自製傳統弓箭發想。耆老不藏私,憑著幼時記憶與年輕人相互切磋;從選材、削製、烘乾、防腐、纏線到成品,每一步驟都不馬虎,驚嘆老祖先真的好有智慧。
拿起年輕族人陳志偉自製的箭,耆老王成陽指著箭簇告知串接處厚度不宜太過,纏線綑綁及射箭時才會平順,陳志源虛心受教。王成陽說,以前只有獵人才會製作弓箭,而傳統弓箭不似現代色澤鮮豔、造形多變,也非以競賽為主,以竹片夾疊且長度較短,便於攜帶,目的只是為了射殺獵物;小時阿公就有兩把,鐵簇都是自行以鐵片燒打,而古時沒有鐵器可利用,祖先會將石板敲磨成三角形,綑綁成箭。
王成陽說,以往都未曾想過製作傳統弓箭,直至立委高金素梅今年策辦一場全國性傳統射箭比賽才被啟發,憑記憶和年輕人相互切磋,再參考他人做法修正。
陳志偉則說,小時候看到頭目家掛有一把弓箭,但祖先留下來工藝智慧,大人未傳授,初時只能憑印象試做;由於不知道防腐方法,摸索過程中曾失敗多。但他不灰心,弓裂了又重做,並向長老請教烘乾防腐撇步,自製弓箭會讓人有種「人弓合一」的感覺,拉弓射箭也非常順暢舒適。
(自由時報記者陳賢義)
Publication Notes
TODAY'S WORDS
今日單字
1. archery n.
射箭 (she4 jian4)
例: Archery and wrestling are very important competitions in aboriginal communities.
(射箭及摔跤是原住民社會中重要的比賽項目。)
2. humbly adv.
虛心 (xu1 xin1)
例: David listened humbly to his uncle's advice.
(大衛虛心地聆聽舅舅的勸告。)
3. grind v.
磨 (mo2)
例: Kathy ground the coffee beans with an electric grinder.
(凱西用電動磨豆機磨咖啡粉。)
Comments will be moderated. Keep comments relevant to the article. Remarks containing abusive and obscene language, personal attacks of any kind or promotion will be removed and the user banned. Final decision will be at the discretion of the Taipei Times.