The humongous crab 巨無霸野生大沙公
Hsiao Jung-hsin, warden of Jhangtan Village at Chiayi County's Dongshih Township, captured a humongous wild male crab, which weighed in at nearly 3kg, on Oct. 6. Its body could almost fill an entire washbasin. When its claws were folded across the chest, they were wider than a beer bottle 29cm tall. Its legs were as thick as a grown man's forearms. When the claws were fully extended, they were nearly 60cm fronm claw to claw. "I have never seen anything like this in four decades!" Hsiao exclaimed. He could not bear to eat it and planned to keep it as a pet.
Hsiao said that when he was eight or nine years old he saw grown-ups catch a huge male crab that weighed 3.6kg, and that he had never seen anything this big in the more than 40 years since then. On the afternoon of Oct. 6 when he was out fishing in the waters outside Dongshih, he could feel the weight of his catch in the fishing net. He pulled it up and, to his surprise, he saw an enormous male crab. After taking it home and weighing it, he found that it weighed nearly 3kg.
"It is indeed a huge beast!" said Yang Kuo-pin, whose family has farmed crabs for three generations. An average male crab can grow by 0.6kg in one year; if they mate more than three times, they will suffer from complete exhaustion and die. If a male crab grows to 3kg in weight, it probably has been living in the cavitys between tetrapods or in a deep oceanic trench, does not have much opportunity for mating and has escaped being caught, and therefore survived. For a male crab to mate with a female without a hitch, their physical proportions must match to a certain degree. A male crab that weighs nearly 3kg can have a hard time finding a virgin crab that weighs 1.8kg for mating.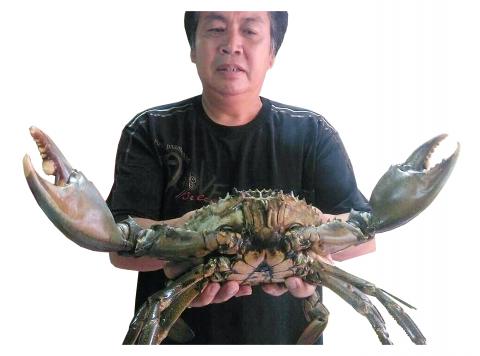 A man holds the humongous male crab on Oct. 7 in Chiayi. 一男子本月七號在嘉義雙手捧著一隻巨無霸大沙公。
Photo: Wu Shih-tsung, Taipei Times
照片:自由時報記者吳世聰攝
The huge male crab that Hsiao caught had a carapace that exceeded 20cm in width and was incredibly active. He dared not move the crab around with excessive force for fear of breaking its claws. Hsiao planned to raise it to see how big it can ultimately be.
(Liberty Times, translated by Ethan Zhan)
嘉義縣東石鄉掌潭村長蕭榮馨,十月六日捕獲一隻重約五斤的巨無霸野生大沙公,其軀體幾乎擠滿臉盆,雙螯抱胸時的橫寬比大啤酒瓶(二十九公分)還長,螯足粗似成人上肢前臂,雙螯全展之間的長度估近六十公分,直呼「四十多年來首見」。他捨不得煮食下肚,打算當寵物飼養。
蕭榮馨說,八、九歲時曾看到長輩捉到六斤的大沙公,此後四十多年來,未曾再看過這麼大隻的。他十月六日下午在東石外海捕撈漁獲,感到魚網很沈重,拉起驚見有大沙公,帶回家秤重約五斤。
「確實是超大怪物。」三代養殖螃蟹的楊國濱說,一般沙公一年可長重一斤;若交配三次以上,就會精力耗盡死亡。能長到五斤左右,研判是生長在消波塊的洞穴內或深海溝,且很少有交配的機會,又逃過捉捕而存活。沙公與處女蟳要順利交配,須有一定的體型比例;近五斤的大沙公難覓三斤重的大處女蟳相匹配。
蕭某捉到的巨無霸大沙公,背甲寬二十多公分,活動力十足,他不敢過於用力搬動,深怕巨螯斷落,打算飼養看牠到底能長到多大。
〔自由時報記者吳世聰/東石報導〕
Publication Notes
TODAY'S WORDS
今日單字
1. humongous adj.
巨無霸;無比壯碩 (ju4 wu2 ba4; wu2 bi3 zhuang4 shuo4)
例: She suddenly realized her affection for that humongous wrestler.
(她突然發現自己已經愛上那位無比壯碩的摔跤手。)
2. forearm n.
前臂 (qian2 bi4)
例: What should I do to get strong forearms like yours?
(我要怎樣才能擁有像你一樣強壯的前臂?)
3. proportion n.
比例 (bi3 li4)
例: When you love someone, everything about him or her is in perfect proportion.
(當你喜歡一個人的時候,有關他/她的所有都是完美比例。)
Comments will be moderated. Keep comments relevant to the article. Remarks containing abusive and obscene language, personal attacks of any kind or promotion will be removed and the user banned. Final decision will be at the discretion of the Taipei Times.