It's a fair cop, well, two, actually 「請教我打魚」 女警智擒壯賊
A thief weighing nearly 100kg stole fishing nets. Fishing nets' knots are knotted to signify their owners, but two policewomen found that the nets on board a man surnamed Yeh's boat were different. They used an excuse to get him to come onto shore and joined forces to haul him in. Policewoman Hsiao Yi-chun almost fell into the sea. On Sept 7, the suspect was charged by police.
There has been a series of thefts of fishing nets from fishermen at Kaohsiung's Jhongjhou fishing port. As some could not afford to buy new nets, they had to stop fishing altogether. Another fisherman surnamed Chiu went out to sea to fish. When he gathered in his nets and returned to harbor, he folded his nets on the bank. The next day when he wanted to go to fish again, the nets were gone.
Police received reports and launched an investigation focusing on a shirtless man, Yeh, who allegedly stole nets and then took a raft out to sea to fish so that the real owners of the nets could not go out. Policewomen Hsiao Yi-chun and Wu Pei-hua were on patrol when they found the suspect, Yeh, returning to port. They outwitted and captured the large, shirtless man.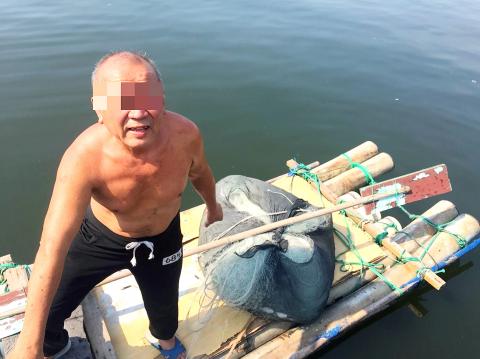 A fisherman surnamed Yeh stands on a fishing raft in Kaohsiung's Gushan District on Sept 7. 葉姓漁夫九月七日在高雄鼓山區站在漁筏上。
Photo: Huang Liang-chieh, Liberty Times, from a police photo
照片:自由時報記者黃良傑翻攝
The policewoman asked Yeh, aged 61, to come onshore and explain about fishing techniques, so she could see if the nets were the stolen nets, with the special knots signifying the owners. After the police had determined that the nets had the special knots, Yeh eventually admitted to the crime and was taken immediately to the police station. In the course of this, policewoman Hsiao nearly fell into the sea, but fortunately Wu ordered the man to let go of her, and Yeh then went quietly to the police station.
(Liberty Times, translated by Clare Lear)
重近百公斤的偷漁網賊,因漁網打結處疑有失主所做記號,兩名女警發現葉姓男子船上漁網有異,智騙葉男上岸,合力擒拿,女警蕭亦君還險些落海。九月七日將葉嫌函送法辦。
高雄中洲漁港漁民漁網接連失竊,不少漁民因漁網被偷,沒有能力再購買新漁網,被迫暫停漁撈;另有一名池姓漁民,日前出海捕魚返回漁港後,將漁網收好放在岸上,隔天欲出海捕魚時,漁網不翼而飛。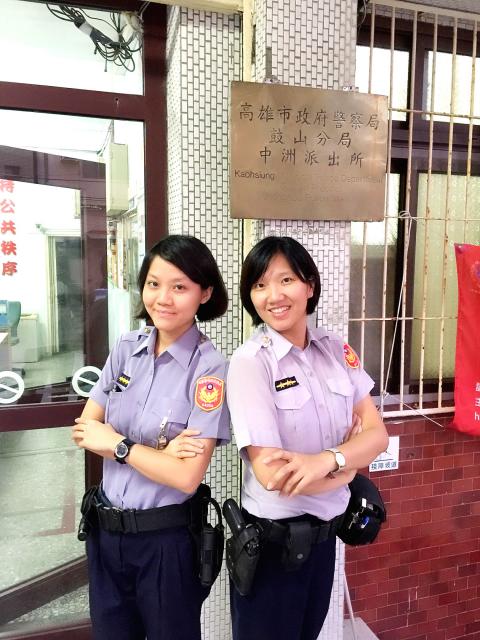 Police officers Hsiao Yi-chun, left, and Wu Pei-hua stand by the door of Jhongjhou Police Station in Kaohsiung's Gushan District on Sept 7. 女警蕭亦君(左)、吳珮華(右)九月七日站在高雄鼓山區的中洲派出所門口。
Photo: Huang Liang-chieh, Liberty Times, from a police photo
照片:自由時報記者黃良傑翻攝
警方獲報展開調查,鎖定赤膊男葉姓漁民涉嫌偷走漁網,再駕駛竹筏出海作業,害失主無法出海。女警蕭亦君、吳珮華巡邏發現葉嫌返港,智擒身材魁武的赤膊男。
女警請葉男(六十一歲)上岸教導捕魚技巧,伺機觀看漁網特徵標記是否為失竊漁網,確認漁網特徵後,葉嫌最後坦承犯案,立即將他扭送派出所;過程中女警蕭亦君險些落海,所幸吳珮華喝令鬆手,葉嫌才乖乖就逮。
(自由時報記者黃良傑)
Publication Notes
TODAY'S WORDS
今日單字
1. charge v.
函送法辦 (han2 song4 fa3 ban4)
例: The man was charged by police with drunk driving.
(該男子因酒駕被警方函送法辦。)
2. a series of phr.
接連 (jie1 lian2)
例: The museum had a series of thefts of its art work.
(這間博物館的藝術品接連失竊。)
3. launch an investigation phr.
展開調查 (zhan3 kai1diao4 cha2)
例: The city government launched an investigation into the lack of parking spaces.
(市政府針對停車位不足展開調查。)
Comments will be moderated. Keep comments relevant to the article. Remarks containing abusive and obscene language, personal attacks of any kind or promotion will be removed and the user banned. Final decision will be at the discretion of the Taipei Times.