Trams only: No dog-walking 高雄輕軌美麗草皮,請勿遛狗
It has been reported that some people have been treating the grass turf of Kaohsiung's light-rail system as a park and have been going straight in to walk their dogs. The Kaohsiung City Government's Mass Rapid Transit Bureau strongly cautions that no persons or vehicles are allowed to enter the tramway track area. Trespassers could face penalties of up to NT$7,500, in accordance with the Mass Rapid Transit Act.
The bureau further says that it will discuss with the Kaohsiung City Police Department's Rapid Transit Police Brigade about implementing the act during the initial and review periods. In the beginning, they will mostly just advise people and promulgate the rules, such as by handing out advisory flyers. It is expected that after the test-run period, violators will be officially fined.
Currently, the section between C1 Lizihnei and C4 Kaisyuan Jhonghua stations of phase 1 of the Circular Line is undergoing initial review. This section extends 1.9 km and comprises four stations. The goal is to start trial operation by the end of this month.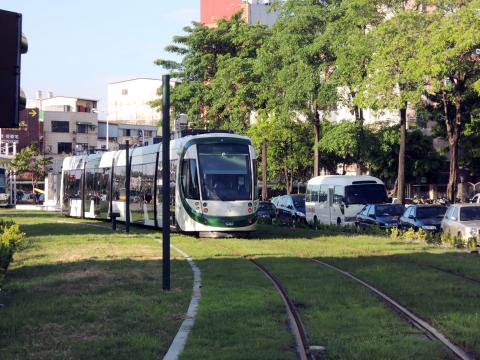 A tram goes on a test run on the Kaohsiung Circular Line on Monday last week. 高雄環狀輕軌電車上週一試行。
Photo: Wang Jung-hsiang, Liberty Times
照片:自由時報記者王榮祥
Liberty Times readers said recently that on several occasions they have seen people enter the tram grass turf to walk their dogs, and some dog owners did not even clean up after their pets. The readers complained that this is not just against the rules but also damages the environment, and they hope the relevant authorities will look into it.
(Liberty Times, translated by Ethan Zhan)
有民眾反映,有些人把高雄輕軌的草皮當公園,直接闖進去遛狗。捷運局強烈呼籲,任何人、車都不能進入輕軌軌道區,違者依大眾捷運法最高可罰七千五百元。
捷運局進一步指出,將與高雄捷運警察隊討論,在初、履勘期間即開始執行大眾捷運法。先期以勸導、宣導(開勸導單)為主;評估試營運後即對違規者正式開罰。
高雄輕軌第一階段的C1籬仔內至C4凱旋中華站路段目前正進行初勘,此路段全長一.九公里、共四個車站,目標是八月底時試營運。
自由時報讀者反映,近期數次見到民眾跑進輕軌草皮上遛狗,有的狗主人甚至事後沒清理,不但違反規定,而且也破壞環境,希望相關單位注意。
(自由時報記者王榮祥)
Publication Notes
TODAY'S WORDS
今日單字
1. walk one's dog phr.
遛狗 (liu4 gou3)
例: Wayne asked me to ask you if you would walk his dog with him.
(韋恩要我問你是否願意跟他一起遛狗。)
2. implement v.
執行 (zhi2 xing2)
例: Ethan is good at creating new ideas; Jack is good at implementing them.
(伊森擅長創造新點子;傑克擅長執行。)
3. phase n.
階段 (jie1 duan4)
例: He felt as if he was dying in the early phase of love, but he survived.
(在愛情最初的階段,他覺得自己像快死掉了一樣。但他還是活下來了。)
Comments will be moderated. Keep comments relevant to the article. Remarks containing abusive and obscene language, personal attacks of any kind or promotion will be removed and the user banned. Final decision will be at the discretion of the Taipei Times.