High-flying student turns her back on NTU 捨台大念師大 林宥均盼偏鄉任教
The results of this year's college entrance exam are out. With her outstanding grades, Changhua Girls' Senior High School student Lin Yu-chun could have gone to National Taiwan University (NTU), but instead she chose to enrol in National Taiwan Normal University's Department of Civic Education and Leadership. Lin is determined to become a rural teacher and expects to be assigned to Miaoli County in the future. She says she just likes the simplicity of rural areas.
Lin's parents are both teachers. Her father is a school principal and her mother is a teacher and group leader. Lin came into contact with Scout groups from a young age and quietly developed an interest in group leadership. On Thursday last week Lin returned to her school as a junior teacher to guide new students around the campus. Lin says that although her grades were good enough to go to NTU, she hopes to be able to combine her interests and vocation, and so she chose to become a rural teacher.
(Liberty Times, translated by Edward Jones)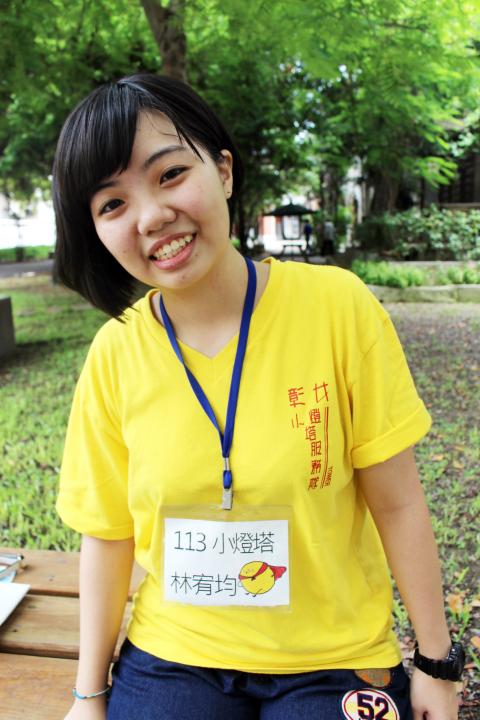 Lin Yu-chun poses for a photo at Changhua Girls' Senior High School last Thursday. 彰化女中學生林宥均上週四在校園內留影。
Photo: Chang Tsung-chiu, Liberty Times
照片:自由時報記者張聰秋
今年大學指考放榜,國立彰化女中考生林宥均以優異成績可進入台灣大學,但卻選擇台灣師範大學公民教育與活動領導學系公費生,立志到偏鄉當老師,日後將被分發到苗栗縣。她說,就是喜歡偏鄉地區的單純。
林宥均的父母都是老師,爸爸當校長、媽媽老師兼組長,幼年接觸童軍營隊,對帶團康培養出興趣,上個禮拜四她返校當小老師帶領新生學妹認識校園,林宥均說,雖然指考成績可上台大,不過她希望興趣和就業結合,選擇到偏鄉當老師。
(自由時報記者張聰秋)
Publication Notes
TODAY'S WORDS
今日單字
1. outstanding adj.
優異 (you1 yi4)
例: The Chinese Taipei team's outstanding performance brought three gold medals.
(中華台北隊以優異的表現抱回三座金牌。)
2. determined adv.
立志 (li4 zhi4)
例: John is determined to enrol in the belly dancing competition.
(約翰立志參加肚皮舞競賽。)
3. simplicity n.
單純;簡單 (dan1 chun2; jian3 dan1)
例: Emily admires the simplicity of Japanese architecture.
(艾蜜莉很欣賞日本建築的簡單設計。)
Comments will be moderated. Keep comments relevant to the article. Remarks containing abusive and obscene language, personal attacks of any kind or promotion will be removed and the user banned. Final decision will be at the discretion of the Taipei Times.