A young man's carp tattoo 少年的鯉魚刺青
A teenager surnamed Wang wanted to get a tattoo and found a 23-year-old man surnamed Chen to do it for him. They began by communicating via an instant messaging program, and Chen asked Wang to go online and find some pictures he liked. The teenager found some drawings of demons, among others, but they were too complicated for Chen, so Chen dug out some simpler pictures of carps, totems and word characters for the teenager to choose, and eventually the youngster picked the carp.
On March 9, Chen tattooed the youngster at his private residence on Guotai Street in Taoyuan's Jhongli District. Seeing a tattoo on the young man's wrist, Chen figured that his family was not opposed to him getting tattoos. He asked the teenager, "Is it OK for you to get a tattoo on your upper left arm?" Only when the teenager agreed did Chen go ahead and tatoo him.
Unexpectedly, when the youngster's father discovered the carp tattoo on his arm in late May, he was furious and yelled, "How hideous!" He then took his son to report to the police, lodging charges of bodily harm and fraud against Chen.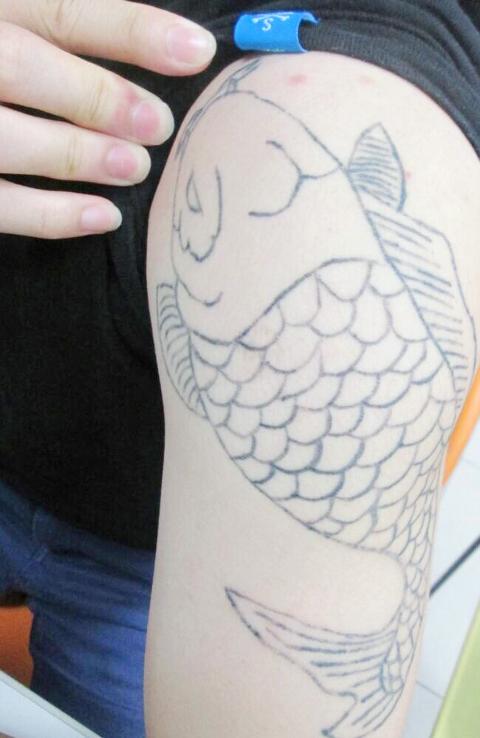 A teenager in Taoyuan on July 23 displays a carp tattoo on his arm. 少年露出他的鯉魚刺青。攝於七月二十三日,桃園。
Photos copied by Chou Min-hung, Taipei Times
照片:自由時報記者周敏鴻翻攝
The police said the father reasoned that he was the teenager's statutory agent and that Chen had tattooed his son without his consent, scratching his son's skin and causing him to bleed. In addition, the father said the tattoo his son received was different from the design that he originally wanted, so he also lodged a charge of fraud.
When Chen was asked by the police to report to the police station, he acted very sorry for himself, saying that he had bought the tattoo tools for personal use, but when the teenager found out that he could do tattoos, he asked him to do one for him. He would hardly have thought that after toiling for half a day to earn a mere NT$3,000, he would end up facing charges. It was really bad luck, he said.
(Liberty Times, translated by Ethan Zhan)
王姓少年想刺青,找上廿三歲陳男,雙方先用通訊軟體溝通,陳男叫少年上網找自己喜歡的圖案。少年找到「鬼頭」等圖案,對陳男來說卻太複雜。陳男從手邊找出「鯉魚」、「圖騰」、「文字」等線條簡單的圖案,供少年選擇,少年最後選定鯉魚。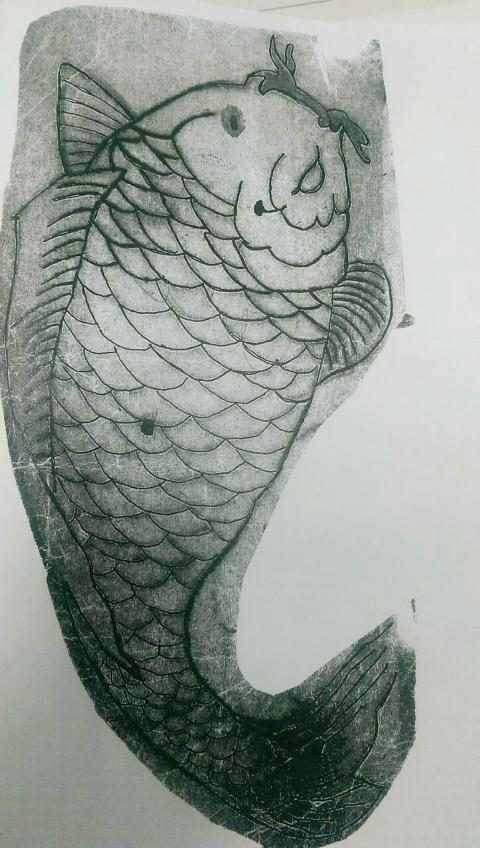 A carp picture that a teenager chose to have tattooed on his arm is pictured on July 23 in Taoyuan. 少年挑選要刺在他手臂上的鯉魚圖案。攝於七月二十三日,桃園。
Photos copied by Chou Min-hung, Taipei Times
照片:自由時報記者周敏鴻翻攝
今年三月九日,陳男在中壢區國泰街住處為少年刺青,陳男見少年手腕已有刺青,以為少年家人不反對他刺青,就問少年:「刺青在左上臂,沒關係嗎?」經少年同意後才刺。
豈料五月底,少年的父親發現他手臂上的鯉魚刺青,氣得大罵「真醜」,帶兒子報警,告陳男傷害、詐欺。
警方說,王父認為自己是兒子的法定代理人,陳男未經他同意就幫兒子刺青,讓兒子破皮、流血,告他傷害罪。王父又認為刺青圖案與兒子最初想要的圖案不符,也告詐欺。
陳男被警方通知到案時,表示很無奈,供稱他買刺青器具是要給自己使用,是少年知道他會刺青,主動請他幫忙,豈料忙了半天、僅賺三千元,還挨告被函送法辦,實在有夠倒楣。
〔記者周敏鴻/桃園報導〕
Comments will be moderated. Keep comments relevant to the article. Remarks containing abusive and obscene language, personal attacks of any kind or promotion will be removed and the user banned. Final decision will be at the discretion of the Taipei Times.