Cute kids' dumpling lift steals the show 素食養生展舉行幼童舉粽大賽 超級卡哇伊
The 2015 Taichung Vegetarian Health Organic and LOHAS Expo took place at the Taichung World Trade Center a few days ago. To welcome the approaching Dragon Boat Festival, the organizers held a children's zongzi dumpling-lifting contest and a vegetarian food competition. As well as adding to the fun, these activities also reminded parents that, as well as themselves, they should also provide their children with more vegetables and fruit to prevent them from getting fat.
The organizers said that, according to the results of a survey on students' health carried out by the Ministry of Education, 29.4 percent of elementary school children are overweight or obese — 33.2 percent of boys and 25.1 percent of girls. In other words, one in three boys and one in four girls of elementary school age are overweight or fat.
The survey questionnaire also revealed that elementary school children's average daily intake of vegetables is only 2.44 servings — much less than the three to five servings recommended in the newest dietary guidelines.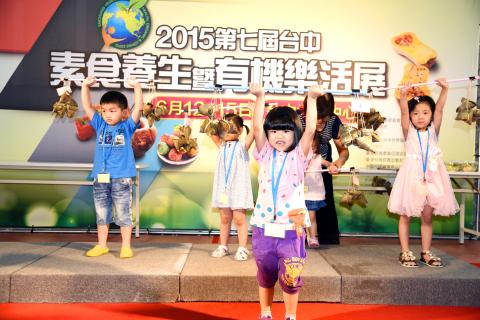 Children enchant visitors at a vegetarian and health food expo at the Taichung World Trade Center on Saturday last week as they take part in a zongzi dumpling-lifting contest. 上週六台中世貿中心素食養生展舉行應景的小朋友舉粽大賽,模樣超級卡哇伊。
Photo: Su Chin-feng, Liberty Times
照片:自由時報記者蘇金鳳
With Dragon Boat Festival fast approaching, the organizers joined in the festive spirit with a thoroughly enjoyable children's zongzi dumpling-lifting contest in which children had to lift up vegetarian dumplings and the six children who held them up for the longest time won prizes, after which they ate vegetarian food along with their fathers and mothers. The message was not to let children start out as fatties, and the kids' super-cute antics had everyone rolling in the aisles.
There were lots of healthy vegetarian foods and drinks available to try for free, as well as vegan cooking lessons and free classes about mothers' secret tasty vegetarian home recipes, not to mention cut-price special deals on meatless foods, including some new veggie ingredients. Those who missed the show this time will have another chance to see it next year.
(Liberty Times, translated by Julian Clegg)
二○一五年台中素食養生暨有機樂活展幾天前在台中世貿中心展覽,為了迎接端午節,主辦單位特舉辦「幼童舉粽大賽」,及小朋友蔬食賽,除了增加趣味性,也提醒爸爸媽媽,除了自己外,也應多給小朋友吃蔬菜水果,才不會增胖。
主辦單位表示,根據教育部學生健康檢查資料結果顯示,國小學童過重及肥胖比率為百分之29.4;男童中過重及肥胖比率為百分之33.2、女童則為百分之25.1,相當於每三個國小男童、每四個國小女童中有一個過重或肥胖。
另外,問卷調查發現,學生每天的蔬菜攝取量平均只有2.44份,遠低於新版飲食指南的建議量的三到五份。
端午節快到了,主辦單位應景舉辦趣味十足的「幼童舉粽大賽」,讓小朋友舉素粽,撐最久前六名,再由爸媽陪吃蔬食,就是不讓「孩子胖在起跑點」,孩子模樣超級卡哇伊,現場笑聲不斷。
會場中並有各式素食養生美食料理免費試吃試喝;蔬食烹飪教學及媽媽私房菜美味素食料理免費教學;還有各種超低優惠素材食品與新素食材。今年沒參觀,明年還有機會。
(自由時報記者蘇金鳳)
Publication Notes
TODAY'S WORDS
今日單字
1. overweight adj.
過重 (guo4 zhong4)
例: The tour guide says that overweight visitors cannot go canoeing.
(導遊說體重過重的遊客不可以划獨木舟。)
2. dietary adj.
飲食的 (yin3 shi2 de)
例: Prisoners with special dietary requirements will be given special meals.
(有特殊飲食需求的囚犯會給予特別的餐點。)
3. rolling in the aisles phr.
笑聲不斷 ((xiao4 sheng1 bu2 duan4)
例: The circus clowns had the audience rolling in the aisles.
(馬戲團的小丑讓觀眾笑聲不斷。)
Comments will be moderated. Keep comments relevant to the article. Remarks containing abusive and obscene language, personal attacks of any kind or promotion will be removed and the user banned. Final decision will be at the discretion of the Taipei Times.