Smartphone detox 停掉手機網路小實驗 她的生活變得....
With the popularity of smartphones, checking Facebook, chatting, playing games and swiping a cellphone screen are common and totally normal occurrences, and more and more people are becoming heavy users. Have you ever thought what life would be like without a phone connection to the Internet?
Hsieh Hsin-hsuan, who was once shortlisted by Tourism Australia for "The Best Job in the World," posted on Facebook on Monday last week that although she had no smartphone four years ago, she has now become a heavy Internet user. "I look at my phone right before bed, I return messages while I'm on the bus, I check Facebook while I'm eating," she said, "How could I manage without an unlimited data plan? With everyone dumping so much information on the Internet, how can I resist rushing to catch up on it?"
Wanting to test whether she really needed the Internet so badly, Hsieh said she stopped going online on her phone for one month, forcing herself to go back to the days of reaching for her phone only when it rang, turning it on only when she had to contact someone, and waiting until she got home to respond to online messages.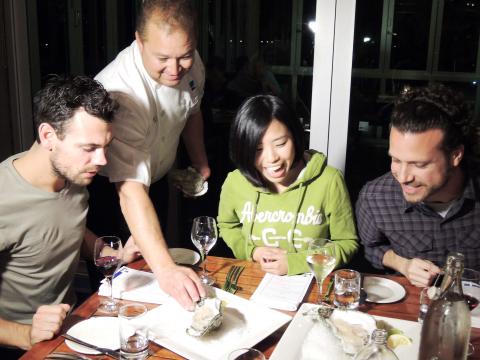 Hsieh Hsin-hsuan, second right, also known as CC Hsieh, smiles as a chef serves up a raw oyster dinner in a restaurant in Australia on June 16, 2013. 看到廚師的生蠔上桌,謝昕璇(右二)開懷大笑。攝於二零一三年六月十六日,澳洲。
Photo: Tang Chia-ling, Liberty Times
照片:自由時報記者湯佳玲
When Hsieh stopped using the Internet, she got in the habit of putting books in her bag, talking to taxi drivers and chatting with the station master when waiting for a train. On weekends she lay down at the seaside, closed her eyes and listened to her friends hum songs and gossip, which enabled her to converse more clearly with her friends than all the messages that she was too busy to answer.
Hsieh reached the conclusion that we do not really need a lot, but we just get used to things and take them for granted. "If you try giving yourself back all that time, you will find that there are so many things you can do," she said.
(Liberty Times, translated by Zane Kheir)
智慧型手機普及,看臉書、聊天、玩遊戲、滑手機,每天做這些事情正常不過,更有人成為重度使用者,你有想過有天沒有網路手機生活是如何嗎?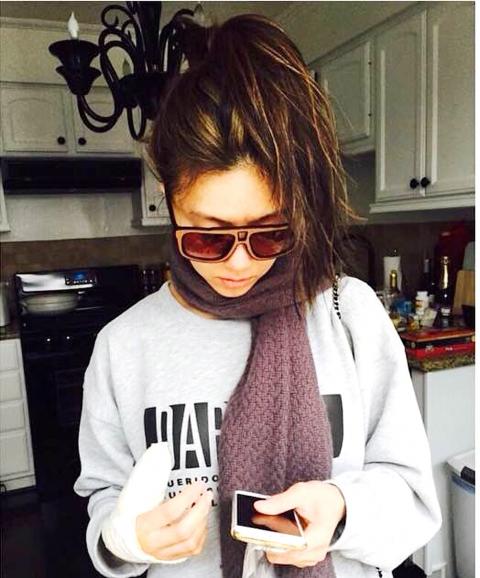 Celebrity blogger Sun Yen-yen uses her smartphone despite having an injured thumb, in a photo posted on her Instagram page on May 25. 時尚名媛孫瑩瑩手受傷還是發揮單手功力低頭滑手機。
Photo from Sun yen-yen's instagram
照片取自孫瑩瑩的Instagram
曾入圍澳洲旅遊局「世界最棒工作」的謝昕璇,上週一在臉書發文,指出四年前她還是一個連智慧手機都沒有的人,如今卻成了網路重度使用者,「睡前的空檔要看一下手機,搭車的空檔要回一下訊息,吃飯的空檔要看一下臉書狀態,網路怎麼可能不吃到飽?別人丟的資訊這麼多不快看怎麼行?」
「想測試自己是不是真的這麼需要網路!」謝昕璇說,她停掉網路一個月,讓自己回到只有手機響才會拿出來、需要聯繫才能打開、唯有回家才能有網路回覆的時候。
謝昕璇在停網路的時候,開始習慣在包包中放本書、坐計程車或等車就和司機、站長聊天、週末躺在海邊,閉著眼睛聽朋友哼歌、聊八卦,原本回不完的簡訊,更能一次表達清楚。
謝昕璇也得到了結論,「原來我們需要的真的不多,只是已經習慣了,就當理所當然了!試著把時間還給自己,可以發現自己能做的事情還有這麼多!」
(自由時報)
Publication Notes
TODAY'S WORDS
今日單字
1. post v.
發文;公佈 (fa1 wen2,; gong1 bu4)
例: I need to check jobs that are posted on the bulletin board.
(我需要看一下公佈在佈告欄的工作職缺。)
2. habit n.
習慣 (xi2 guan4)
例: Smoking is a bad habit.
(抽煙是壞習慣。)
3. take...for granted phr.
當理所當然 (dang1 li3 suo3 dang1 ran2)
例: Freedom of speech should not be taken for granted.
(言論自由不應被視為理所當然。)
Comments will be moderated. Keep comments relevant to the article. Remarks containing abusive and obscene language, personal attacks of any kind or promotion will be removed and the user banned. Final decision will be at the discretion of the Taipei Times.