A chance to visit Japan for free 設計一日遊 免費玩三週
Tatung University collaborated with Japan's Yokote city and Digital und Meer Inc. in holding a "one-day trip" planning contest; the top four student winners will be able to spend three weeks in Yokote for free. On June 1, the three parties signed a five-year collaborative program with the aim of cultivating talent in cultural and tourism exchanges.
Lien Ssu-chi, a junior student at the Department of Applied Foreign Languages of Tatung University, said she just enrolled in a tourism Japanese course for this semester, and was lucky enough that the teacher presented them with this sensational contest. The whole class was divided into nineteen pairs and each team had to design a one-day travel plan for Yokote city. Since Lien loves winter, she planned to attend the snow cave festival, a unique local cultural event, alongside snowboarding, lake sightseeing, sweet rice wine, barbecue rice sticks and other activities. She was confident that she could win.
Another student Yang I-chien said there are still many cultural traditions in Yokote city, with which she was going to design an Akita regional custom village for travelers to experience the traditional local lifestyle. In addition, Yokote Museum of Modern Art, the planetarium and so on will be included to make the trip enjoyable for both the young and old. Student Wu Ming-che, who is an art, literature and manga enthusiast, incorporated the Yokote Masuda Manga Museum and Yojiro Ishizaka Memorial Museum and the like into the trip to give travelers an intellectual experience. Afterward, if travelers feel exhausted, they can end the day with a trip to the hot spring.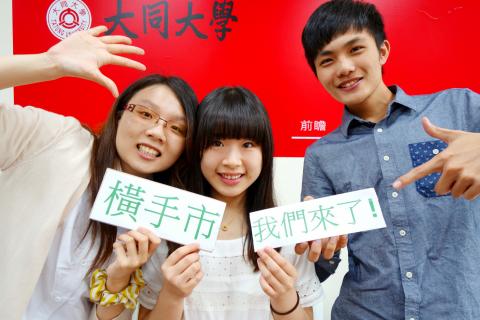 Tatung University student Yang I-chien, first left, Lien Ssu-chi, center, and Wu Ming-che smile as they look forward to winning the contest to visit Japan's Yokote city on Monday last week in Taipei. 大同大學學生楊宜蒨(左起)、連思棋、吳銘哲面帶微笑,期待贏得日本行的比賽前去參訪橫手市。攝於上週一,台北。
Photo: Wu Po-hsuan, Liberty Times
照片:自由時報記者吳柏軒
(Liberty Times, translated by Ethan Zhan)
大同大學與日本橫手市、日本公司DUM合作,舉辦橫手市「一日遊」規劃競賽,優勝四名學生可免費在橫手市大玩三週。三方在六月一日簽署五年合作計畫,培育文化觀光交流人才。
應用外文系大三學生連思棋說,這學期修習「觀光日語」課程,老師便提供這項好康比賽。全班兩兩組成十九支隊伍,替橫手市規劃「一日遊」行程。因為喜歡冬天,所以鎖定當地獨特的「雪洞祭」,並搭配滑雪、遊湖、大啖甜米酒、烤米棒等,有信心奪獎。
另名學生楊宜蒨則說,橫手市在地還有許多傳統文化,將設計「秋田鄉土民俗村」在當地體驗傳統生活,搭配現代的美術館、天文館等,使行程老少咸宜。而學生吳銘哲走文青路線,熱愛漫畫的他納入「增田漫畫美術館」、石板洋次郎文學紀念館等知性巡禮,逛累了在一泡溫泉作結。
(自由時報記者吳柏軒)
Publication Notes
TODAY'S WORDS
今日單字
1. collaborate v.
合作 (he2 zuo4)
例: Would you collaborate with John on this project?
(你是否可以與約翰合作進行這份專案?)
2 cultivate v.
培育、培養 (pei2 yu4, pei2 yang3 )
例: She doesn't cultivate relationships with her boyfriends; she lets nature take its course.
(她是不跟男友培養感情的;她喜歡順其自然。)
3. incorporate v.
納入 (na4 ru4)
例: A very powerful feature will be incorporated into this application.
(這個應用程式將納入一個非常強大的功能。)
Comments will be moderated. Keep comments relevant to the article. Remarks containing abusive and obscene language, personal attacks of any kind or promotion will be removed and the user banned. Final decision will be at the discretion of the Taipei Times.