Gay rights for people with disabilities 身障者的同志人權
May 17 was the International Day Against Homophobia, and organizers of the previous day's Kaohsiung Pride Parade invited people with disabilities to participate. However, Chuang Ching-i, a member of the Alliance of Religious Groups for the Love of Families Taiwan, disagreed with the Kaohsiung Pride Parade's invitation to disabled people, saying that it was already difficult enough for such people to gain social recognition and status, and that if they got themselves involved with gay issues they would be stigmatized by association. Chuang's good friend Vincent Huang immediately issued a statement saying that, as disabled people, they should both have more empathy for the disadvantaged and speak out for them, but that Chuang had sided with "the oppressor" (heterosexuals), and that was why people with disabilities could not have lives of dignity and justice.
Huang took part in an experience-sharing event organized by the Taiwan Alliance to Promote Civil Partnership Rights, where he recounted how he caught polio soon after birth. He said that until the age of 29 he had done everything he could to be a "normal person"—challenged but not incapable—in the eyes of mainstream society. After coming to terms with his identity, he had pursued love courageously, he said.
Huang recalled that his parents could not believe that a person with disabilities could ever find a partner who was willing to take care of him for the rest of his life, until 16 years ago, when he met his current boyfriend. There was one time when he was sitting on the floor at home, mopping the floor with a duster, and his boyfriend angrily shouted at him, "I don't want you to do this!" Huang sobbed as he said, "That was the first time in my life that I felt that there was someone, besides my mom, who cared so much about me."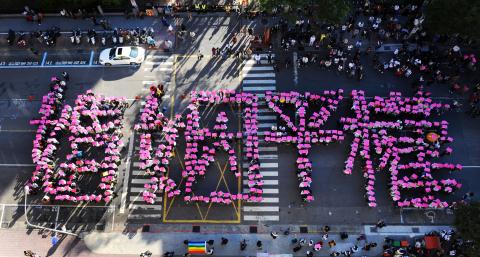 Members of the Taiwan Alliance to Promote Civil Partnership Rights stand on a road in Taipei on Nov. 30, 2013, forming the Chinese characters for "marriage equality." 台灣伴侶權益推動聯盟成員二零一三年十一月三十日站在台北的馬路上排成「婚姻平權」四個大字。
Photo: Lo Pei-der, Liberty Times
照片:自由時報記者羅沛德
Huang stressed that he had not received more support from society because of his disability, but that it was when he accepted his identity as a gay man that many gay friends took very good care of him, and there were even many people who, seeing what life was like for the disabled, joined him in participating in the disabled people's sexual rights movement. "My reason for speaking out is that I want society to know that there are people out there who are both gay and disabled, and I hope society will make an effort to understand and accept them," he said.
(Liberty Times, translated by Ethan Zhan)
五月十七日是「國際不再恐同日」,前一天的高雄同志大遊行邀身障者共襄盛舉。然而護家盟的莊青一不認同高雄同志遊行納入身障者,認為身障者獲得社會認同與地位就已不易,若沾上同志議題,會被貼標籤或聯想。莊的好友黃智堅立刻發聲明表示,兩人同為身障者,應有更多同理心為弱勢發聲,但莊卻站在「壓迫者(異性戀)那一方」,是殘障者不能有尊嚴及公平人生的原因。
黃智堅現身伴侶盟舉辦的「彩虹好厝邊,做伙聽故事」,分享自己出生不久便患小兒麻痺,直到廿九歲前都在努力迎合主流社會眼中「殘而不廢」的「正常人」,他了解自己認同後,勇敢追愛。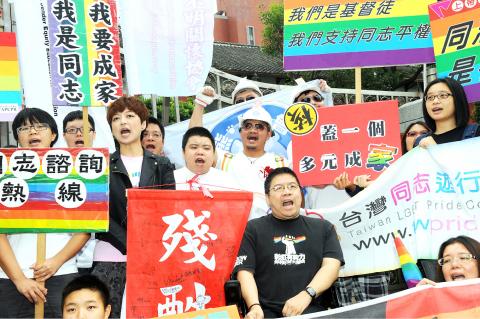 Huang Chih-chien, front right in black shirt, speaks out for gay rights in front of the legislature in Taipei on Oct. 3, 2013. 黃智堅(前,著黑衣者)二零一三年十月三日在台北立法院前為同志人權發聲。
Photo: Lo Pei-der, Liberty Times
照片:自由時報記者羅沛德
黃智堅回憶,過去父母始終不相信身障者能找到願意照顧自己一輩子的另一半,直到十六年前遇見現任男友,有回自己坐在家中地上,拿抹布擦地,男友大罵「我不希望你如此」,他哽咽說,「除了母親,生命中第一次感受到有人如此關心我」。
黃智堅強調,自己沒有因殘障得到更多社會支持,反而接納自己同志身分後,真實地獲得同志朋友們的照顧,甚至許多人看到身障者處境,與他一起投身身障者性權運動,「我站出來就是想要讓社會知道殘障同志存在,並期許社會能進一步了解與接受」。
(自由時報記者蕭婷方)
Publication Notes
TODAY'S WORDS
今日單字
1. stigmatize v.
貼標籤 (tie1 biao1 qian1)
例: We can teach children to respect other people's choices and not stigmatize them.
(我們可以教導小孩尊重別人的選擇並不要貼標籤。)
2. empathy n.
同理心 (tong2 li3 xin1)
例: If you could have empathy for others, you would not say such things.
(如果你能對別人有同理心,你就不會說出那樣的話。)
3. speak out v. phr.
站出來;發聲 (zhan4 chu1 lai2; fa1 sheng1)
例: Will you speak out with me for human rights?
(你是否願意與我一起站出來為人權發聲?)
Comments will be moderated. Keep comments relevant to the article. Remarks containing abusive and obscene language, personal attacks of any kind or promotion will be removed and the user banned. Final decision will be at the discretion of the Taipei Times.