The 17-year romance 愛情長跑十七年
On May 16, the Yilan County Government held a joint wedding ceremony at Tungshan River Park, attended by a total of 19 couples dressed in beautiful attire. One of the newlywed couples has been engaged in a 17-year-long romance; the man has always wanted to bring his girlfriend home as his bride, but the woman wanted her husband to complete his PhD degree first. Now that he has graduated and has a career, the couple have decided to tie the knot and are committed to taking care of each other for the rest of their lives.
Among the 19 couples, who were mostly made up of civil servants, 34-year-old engineer Lan Kuo-cheng and 33-year-old National Property Administration worker Huang Mei-ping were high school classmates and had been in a relationship for 17 years before deciding to become husband and wife.
How could someone hold out for that long? Lan innocently said "I asked every year," but his wife always hoped he could successfully complete his PhD studies first. Lan received his diploma the year before last and now has a stable job, so Huang finally accepted his proposal. "It is a good thing I did not fail to live up to my commitment," he said.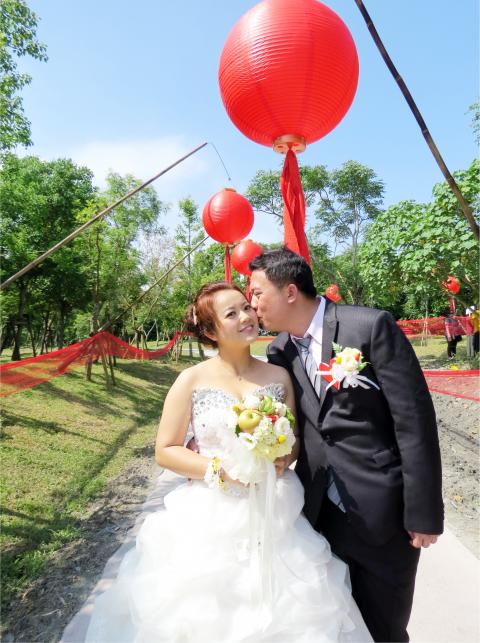 Lan Kuo-cheng, right, kisses his bride Huang Mei-ping on May 16 after their wedding ceremony in Yilan County, as the couple finally tied the knot following a 17-year romance. 藍國誠(右)於五月十六日宜蘭舉行的婚禮後親吻新娘黃美萍。這對愛侶相愛十七年後才共結連理。
Photo: Wang Yang-yu, Liberty Times
照片:自由時報記者王揚宇
Huang said that although they were in two separate places and had thoughts of giving up, she wanted her husband to prioritize his education, and he really was very good to her . Therefore, she chose to believe that her husband was the person who could make her happy.
(Liberty Times, translated by Zane Kheir)
宜蘭縣政府五月十六日在冬山河森林公園舉行聯合婚禮,19對新人盛裝出席;其中一對新人愛情長跑17年,男方一直想把美嬌娘娶回家,女方卻希望丈夫先完成博士學業,如今學業完成、事業有成,兩人決定共結連理許下承諾,「下半輩子由我來照顧你(妳)」。
19對新人中,以公教人員最多,而34歲的工程師藍國誠、33歲的國有財產署員工黃美萍,兩人為高中同學,愛情長跑17年,決定結為夫妻。
為何「跑」那麼久?藍國誠喊冤說,「我每年都有問」,但老婆希望他能先完成成功大學博士班學業,前年拿到畢業證書,現在也有穩定工作,因此才接受求婚。「還好沒有辜負承諾!」
黃美萍說,雖然分隔兩地,也曾有放棄念頭,但希望老公以課業為重,而他實在對自己很好,因此選擇相信老公是能給自己幸福的人。
(自由時報記者王揚宇)
Publication Notes
TODAY'S WORDS
今日單字
1. tie the knot phr.
共結連理,結婚 (gong4 jie2 lian2 li3, jie2 hun1)
例: Most people in Taiwan tie the knot earlier than people in Western countries. (台灣大部分的人比西方國家較早結婚。)
2. commitment n.
承諾;決心 (cheng2 nuo4; jue2 xin1)
例: Starting a new business requires a lot of commitment. (開創新事業需要很大的決心。)
3. separate adj.
分隔,分開 (fen1 ge2; fen1 kai1)
例: It is important to keep one's work and personal life separate. (將工作與私人生活分開是很重要的。)
Comments will be moderated. Keep comments relevant to the article. Remarks containing abusive and obscene language, personal attacks of any kind or promotion will be removed and the user banned. Final decision will be at the discretion of the Taipei Times.