New Taipei's doggie doctor 熱血獸醫 投身公務
Veterinarian Hsieh Yu-ta, who works at a government-run animal treatment and rescue center in New Taipei City, graduated from National Chung Hsing University's College of Veterinary Medicine and has a master's degree in clinical veterinary medicine. Hsieh originally practiced at a private animal hospital, but his passion for saving stray animals made him determined to become a civil service vet so that he could use his medical skills to change the fate of strays.
Hsieh says that his father also practiced veterinary work, so he was inducted into the field from a young age and wanted to make a contribution to helping stray animals. He says that Taiwan has many animal protection groups but most of them "do their own thing," which makes it difficult to solve the stray animal problem.
In his original job at a private animal hospital, most of Hsieh's patients were pets with owners. Hsieh says that since he joined the civil service as a vet he has had to deal not with pets, but rather stray animals that are problem-ridden and require more help.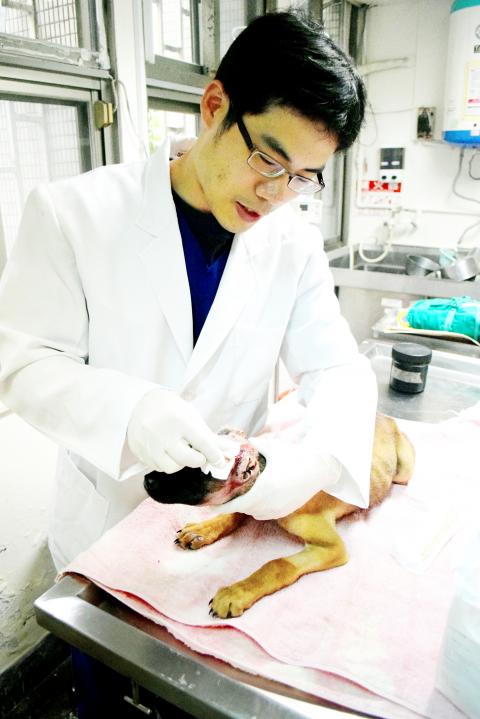 Veterinary physician Hsieh Yu-ta treats a puppy's ear at a government-run animal treatment and rescue center in New Taipei City on May 1. 獸醫謝侑達五月一日在新北市的公立動物醫療救援中心治療小狗的耳朵。
Photo: Chen Wei-tsung, Liberty Times
照片:自由時報記者陳韋宗
Hsieh constantly researches ways of improving the equipment of the animal treatment and rescue center and establishing standard operating procedures for treatment. He says the rescue center can care for up to 25 hospitalized animals at a time, but occasionally they also have to accommodate emergency cases. The job keeps the staff busy from early in the morning to seven or eight at night, leaving them hardly any time to rest. However, Hsieh says that seeing the animals going from injury to recovery and adoption makes it all worthwhile.
(Liberty Times, translated by Zane Kheir)
新北市動物醫療救援中心獸醫謝侑達從中興大學獸醫學院畢業,具臨床獸醫碩士學位,原本在民間動物醫院服務,但他懷抱著「拯救流浪動物」的熱誠,毅然投入公務獸醫,以醫術扭轉流浪動物的命運。
謝侑達說,父親也從事動物醫療工作,他從小耳濡目染,很想為流浪動物盡一份心力。他說,台灣有很多動保團體,但多數「各做各的」,難以解決流浪動物問題。
原本在民間動物醫院服務的謝侑達,治療對象大部分是有飼主的寵物。他說,進入公務體系當獸醫,需要面對的不是寵物,而是狀況更多、卻也更需要幫助的流浪動物。
謝侑達經常研究如何改良動物醫療救援中心的設備,建立醫療標準作業流程。他說,救援中心同時住院的流浪動物,最多達廿五隻,再加上臨時送進中心急診的個案,從早上忙到晚上七、八點,幾乎無法休息。不過謝侑達說,看著流浪動物從受傷到復元、被認養,「一切就值得了。」
(自由時報記者陳韋宗)
Publication Notes
TODAY'S WORDS
今日單字
1. make a contribution phr.
盡一份心力 (jin4 yi1 fen4 xin1 li4)
例: It is very rewarding to make a contribution to society.
(為社會盡一份心力是非常有成就感的事。)
2. standard operating procedure phr.
標準作業流程 (biao1 zhun3 zuo4 ye4 liu2 cheng2)
例: Every department in the government should have a set of standard operating procedures for responding to emergency situations.
(政府的各個部門都應該有一套標準作業流程來因應緊急情況。)
3. injury n.
受傷 (shou4 shang1)
例: People who suffer injuries on the job require compensation.
(因公受傷應獲得補償。)
Comments will be moderated. Keep comments relevant to the article. Remarks containing abusive and obscene language, personal attacks of any kind or promotion will be removed and the user banned. Final decision will be at the discretion of the Taipei Times.