Typing style reveals fatigue 打字模式會洩漏你的精神狀態
The way a person types can reveal the state of their brain, according to a study that tracked keystrokes when the typist was alert or groggy.
Many of us spend lots of time tapping out words on a keyboard. Now a research team at the Massachusetts Institute of Technology thinks that how we type might reveal hidden information about the state of our brains. The researchers designed a study in which a computer could detect which subjects were alert and which were suffereing from fatigue, just from their typing.
They focused on how long any particular key was depressed, and designed a program to evaluate the keystrokes while ignoring the actual content being typed.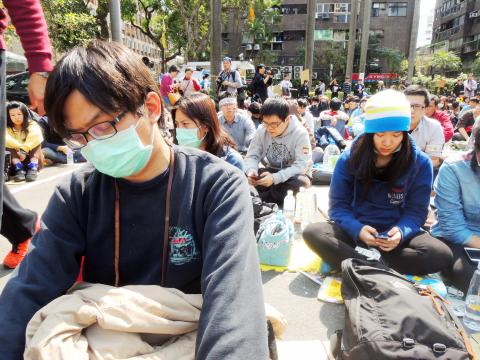 A student protester taking part in a sit-down protest outside the Legislative Yuan in Taipei on March 23 last year nods off while listening to a broadcast of a press conference held by President Ma Ying-jeou. 去年三月二十三日,台北立法院外一名參與靜坐的學生在聆聽馬總統的記者會廣播時,大打瞌睡。
Photo: Hsieh Wen-hua, Liberty Times
照片:自由時報記者謝文華
For the study, 14 volunteers — seven women and seven men — had to type a Wikipedia article when they were fully alert. Then they were woken up about 70 to 80 minutes after they had fallen asleep, when they were in deep slumber. They then had to type out another article while still drowsy.
The result: how long they held down the keys varied much more when they were sleepy than when they were alert.
The researchers say that such a system could be useful as a safety feature on software programs for night shifts, to identify users who have become incapacitated by sleepiness.
(Liberty Times, translated by Ethan Zhan)
你打字的方式會顯示出大腦的狀態。一個追蹤打字者在精神集中與精神渙散時敲打鍵盤的研究得出這個結果。
許多人有大量的時間是用來敲鍵盤打字。麻省理工學院的一個研究小組就想:我們打字的方式可能可以透漏出我們腦部隱藏的資訊。這些研究員便設計了一套研究,讓電腦可以偵測受試者是精神集中或精神渙散,而且只要從他們打字的方式就可以判斷出來。
這項研究只注意任何一個按鍵敲擊的時間,並設計一套軟體來對敲擊進行分析,至於打字的內容則不予理會。
此研究有十四名志願受試者,包括七名女士及七名男士。他們必須在精神完全集中的狀態下打出一篇維基百科的文章。接著,他們會在睡著、熟睡後約七十至八十分鐘的時間被叫醒,然後在精神恍惚的狀態下打出另一篇文章。
結果顯示:與精神集中時相比,精神渙散時敲擊按鍵的時間長短差別較大。
研究員表示,這套系統將可用在軟體上,做為夜班人員的一套安全機制,可判斷人員是否因睡蟲而無法正常工作。
(自由時報綜合報導)
Publication Notes
TODAY'S WORDS
今日單字
1. fatigue n.
疲憊,疲勞 (pi2 bei4, pi2 lao2)
例: The drug's side effects include headache and fatigue.
(這種藥的副作用包括頭痛和疲勞)
2. drowsy adj.
精神恍惚 ;睏倦 ((jing1 shen2 huang3 hu1; kun4 juan4)
例: I started feeling drowsy and decided to take a nap.
(我開始感到精神恍惚,因此決定小睡一下。)
3. incapacitated adj.
無法正常工作 (wu2 fa3 zheng4 chang2 gong1 zuo4)
例: He was incapacitated by the pain.
(他因為病痛而無法正常工作。)
Comments will be moderated. Keep comments relevant to the article. Remarks containing abusive and obscene language, personal attacks of any kind or promotion will be removed and the user banned. Final decision will be at the discretion of the Taipei Times.